A Curiouser and Couriouser Week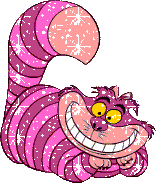 Have you ever felt like Alice in Wonderland when things aren't as they seem?
It's been a very strange week here at Our Little House.
It's been mostly work projects that have caused me to scratch my head – an editor doing something unheard of in journalism, asking me to give up my notes to a source.
Another story of mine was edited until I hardly recognized what I wrote.
A nearly 8 month negotiation to do some work for a company still did not result in a contract.
I went for a meeting thinking we were near a contract and instead, found myself feeling like I was back in the very first meeting again. The woman put in charge of determining what the company needs acted like her boss hadn't filled her in on any of our previous conversations.
When I came home from the meeting, I found out someone had hacked into Living Large, so my apologies to anyone who could not access the site on Tuesday. I was up until 10:30 that night working with my ISP to resolve the issue.
Of course, I'm still at a loss over the whole turkey drop controversy.
We received some much-needed rain at Our Little House yesterday. Hopefully, it will wash away the Twilight Zone occurrences here.
I don't know if I can take much more curiouser and curiouser!
Have you ever had times that it seemed everything you did was backwards or inexplicably wrong?