On the Road Again at Our Little House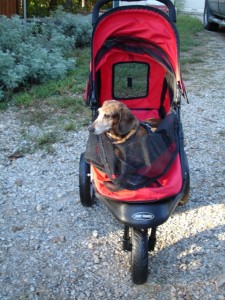 I've known for sometime that I would most likely one day be known as the "Crazy Dog Lady" here on the mountain.
Last week, I think Dale thought that day had come to pass.
I wrote in July about our 9-10 year old Doxie, Molly, being diagnosed with a severe enlarged heart.
Unfortunately, Molly cannot take walks with us any longer and this was inhibiting my ability to take Dakota, the Dachshund/Beagle mix on walks. The larger dogs can go out by themselves to roam, but Dakota is too small and now too old and I fear some big bad wild animal will get her if she's not on a leash.
This left us with only these choices, none of which were good:
Leave Molly at home by herself while every other dog went on a walk. This makes her crazy and she would do nothing while we were gone but jump and bark at the door. Not good for her heart.
Carry Molly in a pet sack that allows a dog to ride on someone's chest. We have one we used for Hershey, our late miniature Dachshund, when she could no longer go on walks. Not an option for me and Molly as she weighs at least 10 lbs. more. I'm also several years older with more back problems than I had previously.
Not go on walks at all, which isn't good for Dakota or me.
The only good choice I felt I had is to find a way to take Molly with us. I ordered this all terrain pet stroller (which I like to call a pet cart).
It was pricey, but I saved my 'mad money' to buy it.
Molly didn't care much for it at first, but she is getting the hang of it. When I stopped to allow her to get out and sniff around for a little while, Dakota even wanted in it when we loaded up again (she doesn't get to ride, she needs the exercise!)
The stroller rides well even on our rocky dirt road and I've found the cart also gives me some exercise in my arms. I haven't pushed a stroller in quite some time and it requires a little exercise in those arm muscles!
So, I might be known as "The Crazy Dog Lady" on my mountain, but at least we're back on the road again, Living Large!
What is the craziest thing you've done for your pets?