My Un-Labor Day at Our Little House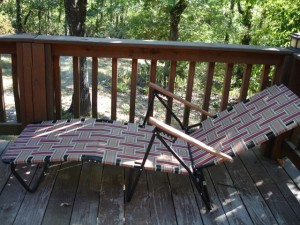 I love holiday weekends.
Dale gets to spend more time with us at Our Little House and time slows to a crawl.
This was an especially nice weekend weather wise. The hot and humid temperatures broke on Sunday. Up until that time, we were still having 100 degree days.
On Monday, we decided on ribs and potato salad for dinner, which means I got to finish my part of the meal early. Potato salad is much better when it sits in the fridge all day.
I finally got to enjoy my new lounge chair that we purchased during our anniversary trip to Kansas City in July. The weather hadn't permitted much outdoor enjoyment all through the months of July and August.
I wanted a woven fabric lounge chair like the ones I used to sit with my parents in when I was little. We would sit on warm summer evenings, picking out the star constellations.
Our community was still dark enough to see stars in the sky then and my parents had a patio poured just for such occasions.
Here at Our Little House, we have two outdoor upright chair and table sets, but they aren't comfortable for lounging on the party deck reading during the day or star gazing at night.
Most of the modern lounge type chairs are just ugly, in my opinion.
I found my perfect chair at Westlake Hardware in Kansas City. Well, almost perfect, it's not made in the U.S.A., as I'm sure the ones my parents had were.
But it is sturdy and pretty and was great for my un-Labor Day celebration, reading and napping under the clear blue sky on the party deck.
I'm looking forward to more days in my chair and even some star gazing.
What did you do for the Labor Day holiday?