Living Large Tip of the Week: Hanging Clothes out to Dry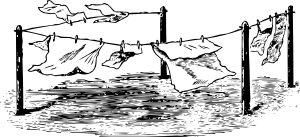 We all want to save money these days. Most "green" tips will actually help save you money and this one is no different.
I've been hanging most of my laundry out to dry for a long time.
It not only saves our clothes from wearing out as fast by fading and shrinking, it saves us on energy.
I didn't realize how much until I did a test for an article I wrote. (I do dry some things such as towels and furniture covers.)
When I looked at the electric meter during that test, it was spinning way too fast and I knew each head-spinning whirl was costing us big bucks.
How much?
According to the Consumer Energy Center, the dryer is the second most energy using appliance, next to the refrigerator. It costs an average of $85 annually to use and over $1,500 over the course of the lifetime of the unit.
The bonus is that it is a very environmentally friendly thing to do and when using wooden clothespins instead of plastic, completely green.
If it's cold outside or you cannot hang your clothes out to dry due to silly Homeowner Association rules, hang your clothes inside.
During the winter, this adds valuable moisture to the air. It also makes our house smell fresh and clean!
Do you hang your clothes out to dry? Why do you prefer it?