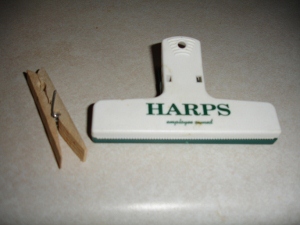 Back in the 1980s when we were just estab­lish­ing our home, we thought these plas­tic chip clips were the best things since sliced bread (it turns out com­mer­cially pro­duced sliced bread isn't so whole­some either, but that's another post…)
As I learned more about plas­tics and sus­tain­abil­ity, I learned that the United States con­sumes about 30 per­cent of the world's resources, although we only make up about 5 per­cent of the world's population.
It takes resources to make plas­tic items and then those items typ­i­cally end up in the land­fill someday.
Dale worked in a land­fill for nearly 25 years and saw first-hand the effects of the never– degrad­ing plas­tic trash discarded.
Our solu­tions for "chip" clips, which we use on bags of flour, cereal, dog food, dog treats, cof­fee, etc…
Wooden clothes­pins.
Wood, of course, is biodegrad­able, so when these break, we don't feel as bad chuck­ing them into the trash (or even the fire).
We didn't even have to worry about any new resources to make our clothes­pins. We bought a huge older bag of them at a garage sale for .25.
Clip that!
Do you use wooden clothes­pins on any­thing besides hang dry­ing clothes, if so, what?