Living Large Tip of the Week: Clothespins as Chip Clips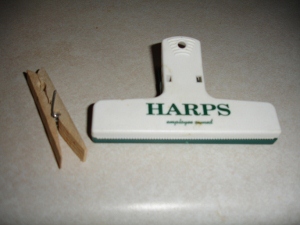 Back in the 1980s when we were just establishing our home, we thought these plastic chip clips were the best things since sliced bread (it turns out commercially produced sliced bread isn't so wholesome either, but that's another post…)
As I learned more about plastics and sustainability, I learned that the United States consumes about 30 percent of the world's resources, although we only make up about 5 percent of the world's population.
It takes resources to make plastic items and then those items typically end up in the landfill someday.
Dale worked in a landfill for nearly 25 years and saw first-hand the effects of the never- degrading plastic trash discarded.
Our solutions for "chip" clips, which we use on bags of flour, cereal, dog food, dog treats, coffee, etc…
Wooden clothespins.
Wood, of course, is biodegradable, so when these break, we don't feel as bad chucking them into the trash (or even the fire).
We didn't even have to worry about any new resources to make our clothespins. We bought a huge older bag of them at a garage sale for .25.
Clip that!
Do you use wooden clothespins on anything besides hang drying clothes, if so, what?