Cast Iron Skillet Cooking Attempts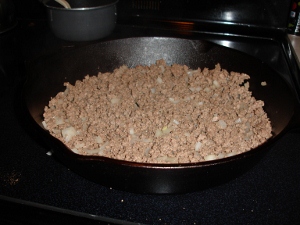 When Dale finally decided to share his cast iron cookware with me that he uses for campfire and Dutch Oven cooking, I knew immediately that my first dish was going to be fried chicken.
His grandmother used to make us fried chicken – and rabbit, though they tricked me into thinking it was chicken – in her cast iron skillet and it's been nearly three decades since I had chicken that good.
I've been yearning to ditch the non-stick cookware I was taught to cook on at home and in 1970s and early 80s home economics classes. I was going to purchase Le Creuset set of pans, but it's expensive and I thought it wasteful to purchase a whole new set of pans when we have a whole shelf full of cast iron we use only occasionally for outdoor cooking. (I'm still going to purchase some sauce pans from Le Creuset as the Lodge enamelware is made in China).
I'm also tired of using cookware I know is not safe for us.
The first clue for anyone on non-stick cookware is that if it over-heats, it can be fatal to birds and other small animals in the house!
When my grandfather and uncles coal mined 100 years ago, miners used the "canary" test to see if the air was safe for the miners to enter. Yet, we use cookware that emits such toxic chemicals that it kills birds!?
How crazy is that.
Dale was finally sold on using our cast iron all of the time when he read of the benefits of additional iron in the diet, but he was still wary of using it on a electric, smooth top range. He tried cooking something not long ago in the house and it stuck to the pan and he thought it might be due to the electric range.
I read Dale's "Cast Iron Cooking for Dummies" book. I posted my intent on Living Large's Facebook page and received some good advice.
All of our cast iron is Lodge, made in the U.S.A. (all Lodge is except for the enamel covered ware). Dale even broke out the new pre-seasoned (Lodge cast iron uses a non-toxic pre-seasoning method) 12-inch deep skillet for the chicken.
I washed the skillet in hot water, dried and oiled it. Ready, and set.
I put in the oil and preheated it for my chicken. Although some of our community on Facebook said not to turn it up too high, the book said to crisp the chicken fast at first to seal in the juices.
Before I knew it, the heat got away from me and the yummy smell of chicken frying quickly turned to chicken burning.
Of course, Dale warned me that when a cast iron skillet gets hot, you can't cool it down immediately.
Sweating, flustered and disappointed, I finally had to try to salvage the meal in the oven (a tip I got from the book as they must have known that some people would get the skillet too hot to finish the chicken).
After 30 more minutes in the oven, the chicken was done, still juicy and crispy (only 3 pieces were actually blackened and not so badly that they couldn't be eaten).
No sticking and no burning of the skillet, though and we used boiling water and wire brush to clean it (you don't use soap on cast iron unless you want to season it all over).
The next night, I browned hamburger for tacos in the skillet. Low and slow and it turned out fine. Maybe I should have tried something more simple for the first time.
"It's just going to take time," Dale said, after the chicken fiasco.
It's time I feel well worth it for our health and I won't let my chicken experience stop me from pursuing this goal. I know one day I'll serve up a bird even Grandma Wright would be proud of.
What types of pots and pans do you cook with? Do you have any cast iron cookware tips to share?