Wheels and Memories on the Road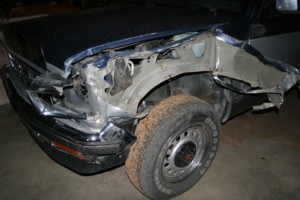 I didn't fully realize it at the time, but I lost part of my freedom last November when I crashed my 1988 Baby Blazer on a slick mountain road.
I've always enjoyed driving and the independence it gives me. My mother, mother in law and one of my sisters in law have never drove, relying instead on their husbands. That's something that would have driven me (!) insane.
Thankfully, I wasn't hurt in the crash and the motor was not damaged, but the extensive damage to the exterior left me without wheels.
I didn't know at the time I would be without my own wheels – something I had not experienced since I was 16 – for 9 full months.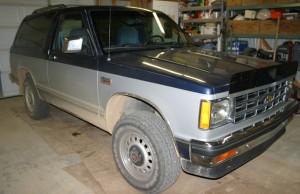 Dale looked for new parts and of course, could not find them for a vehicle manufactured 23 years ago. Reconditioned parts were well, reconditioned and worse to him, shipped from China. After waiting about 8 weeks for the parts book, he threw it down after reading, "The parts may be slightly damaged from shipping overseas."
We finally found a 1990 here, same body and same colors. Dale bought the parts we needed and had the Baby Blazer back together this past weekend.
The find came none too soon for me. Although I don't go out often during the week, just not having a vehicle here made me feel trapped.
When Dale finished the bodywork, I decided my BB needed a good cleaning. I had neglected to clean it out between 1998-2010. It sat without an engine from Christmas 1998 until Dale put a new one in before we moved here in 2007.  After the move, well, cleaning a car out I only drove about once a week wasn't a priority.
Cleaning it out was like being in a Way Back Machine. I found receipts and notes from 1998-2007. Among those was an empty envelop with my mother's careful handwriting, "Deposit." There were also fliers and notes from my craft business I closed in late 1998.
The papers and receipts blended our old life in the city to our new one. Among the decade old bank receipts and papers were deposit receipts from our bank here. Assignment sheets for the reporting I've done for the newspaper here were mixed in with reminders of my corporate job, now a long ago memory.
In the glove box, buried among the years of tax receipts and registration forms was a note from our Australian daughter, Meg-Ann, written for me to find in the car after she returned to her homeland in 1993 (I had put it in the glove box when I found it and forgotten it).
She thanked me for taking her to all of those basketball and volleyball practices and games and on Roller Coaster Road, a hilly road I probably drove too fast on, while listening to Def Leppard.  She also thanked me for our many mother-daughter talks.
Meg's note was the only time capsule item I put back in the car. I placed it back in the glove box, thankful for a husband who can assemble a car, inside and out, and glad I once again have my freedom and have a chance to make more memories here in our new life in my Baby Blazer.
Have you ever been without transportation? Have you ever found old notes or surprising items in an unexpected place? Where? What were they?