There's Always the Fall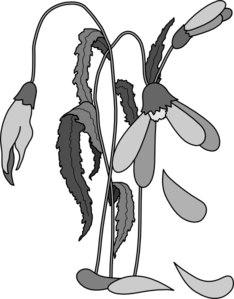 "Sorry we didn't get down to see you this summer," our good friend, Mike told me on a recent phone conversation. Mike was my "Godbrother" growing up and our mothers were best friends. They usually make a couple of trips down, but they've been busy this year purchasing and remodeling their lake home, which they will use in retirement.
"It's ok, the only thing we could have done was sit inside anyway," I told him, "Maybe you can get down here this fall."
And so this summer goes, I think after this prolonged heat – it reached 114 degrees in our area yesterday – we're all ready for fall.
I know many of my friends have given up on their flower and vegetable gardens, but I continue to keep watering my tomatoes and cucumbers and potted flowers on the deck. They are hanging in there, but they aren't as perky as they would be had we some reprieve from the heat.
The cucumber plant, which began the season full and flowery has only produced 3 scrawny cucumbers, but at least it is trying. Most of the blooms experience a day or two of this heat and shrivel up.
It was cloudy this morning, but I watered anyway, the rain has been skirting around us and while it smelled like rain earlier this morning, that smell just gave way to a cloudy, muggy day. It feels as if we're being collectively smothered under one of those wool blankets I hated when I was a kid.
Dale has been cranky and exhausted each day when he comes home from the "blast furnace" of working in a non-climate controlled garage every day.
Kids in our town start school the week after next, which signals that this weather won't last forever.
A couple of activities I'm looking forward to as soon as fall arrives:
Dale finally putting my Baby Blazer back together. We finally found and bought original parts from a Blazer that had been sold to a local junkyard. Bonus! It's the same color as mine so we will not have to go to the expense of painting it right away.
Fishing and just being on the lake. As Dale put it, "This year, we've had two seasons, cold and hot. No, make that four. We had cold and colder and hot and hotter." After a cold wet spring that brought flooding to our area again, the heat sank in immediately afterward.
We haven't even had our boat out since last fall.
Two cookouts. We've finally met enough people and made a few friends and we hope Dale can try some of his new recipes for our friends.
What are you looking forward to when the weather breaks this fall?