Shots in the Dark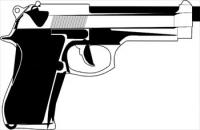 The other night, Abbi, our Huskey mix began pacing and acting restless, as if she wanted out. I don't allow the big dogs to roam at night since losing Emma, so I tried to calm Abbi and told her to lie down.
It was time to take Molly and Dakota outside before we went to bed.
Just as they finished their business, pop, pop, pop!
The dogs perked up and the noise startled me so that I hurried them into the house without even trying to assess what it was or where it was coming from.
"I just heard noises outside," I told my husband. "Pounding or something."
He rolled his eyes and headed out the door, convinced I had scared myself with the latest episode of one of those ghost hunting shows.
I picked up the phone and called my aunt to see if her husband might be out in his garage hammering on something. I doubted it at 9 o'clock and I was right.
As Dale hung out on the party deck listening and then moved to the covered front porch, I finished getting ready for bed.
Just as he came back in to report they were gunshots, my aunt called with the same conclusion. It was then evident why Abbi was so restless, she hates gunfire.
"It's down below us, I think," she said. "Toward the point or maybe even on the other side of the cove."
In the mountains, sounds travel strangely and sometimes we cannot even tell from which direction they're coming.
The good thing about living on a beautiful, large lake is also the worst thing.
Other people come here too, only they are sometimes not seeking the peace and quiet or seclusion of the area.
We're no strangers to firearms, they are a necessity here in the wilds of the mountains and shots are also not uncommon as people do target practice, but not in the dark of night. It made me very uneasy.
Pre-dawn the next morning, as I sat working away in The Belle Writer's Studio, one car flew up the road, which alarmed me, because the dogs were out. We typically don't have to worry about traffic on this road, especially that early in the morning. I heard the big dogs stir on the porch of the studio, but they didn't run after the car, thankfully, and I herded them all back in.
About 20 minutes later, a second car sped up the hill past our house. Dale had already left for work and I knew whoever it was did not live here. What were they doing out so early (or late, depending on one's state of mind, I suppose) and why where they here?
I shuddered remembering the night back in the city when a drugged up 6-foot-plus-tall young man walked into our house at 4 a.m. looking for "the party."
I mentally reminded myself of where my own loaded protection was.
Camping is illegal at the end of our point, on the Corps of Engineers property, but that doesn't matter to some, we've found evidence of people camping illegally on the shore less than 100 yards from our house.
Our weekender neighbors have also been broken into more than once during hunting season.
And we thought we only had to worry about people and gunplay in the city 'hoods.
What sounds scare you in your neighborhood at night?