Living Large Tip of the Week: Throwing out Plastic Containers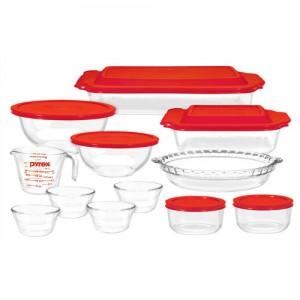 School is in.
I don't have to worry about packing kids' lunch, but I wondered how parents pack lunches in safer and greener containers?
It isn't like they have metal lunchboxes as many of us did.
42 percent of the world's wood harvest goes to produce paper, making paper lunch sacks just not very environmentally friendly.
Dale carries his lunch in a small plastic cooler that's probably over 20 years old now, but what about kids?
I found this website, EcoBags, which offers a wide variety of lunch bags and all kinds of totes (hint, for your grocery outings too!)
A year or so ago, close to the time we tossed the microwave, I also decided we were going to do away with plastic containers.
We went with the Pyrex glass (pictured above) and my husband did fine with them until last week when he did drop and break one at work while putting it into the fridge.
That also made me realize that glass containers aren't a good option for small kids (and sometimes not for husbands), but this site, The Soft Landing, has all kinds of containers. Some are plastic, but they're also BPA free. There's also stainless steel containers on the site, something I will consider for Dale for his salads.
No reason now not to toss the plastic and go with greener and safer food containers.
Have you tried any of these products? Have you thrown away the plastic containers at your house?