Living Large Tip of the Week: Saving on Gas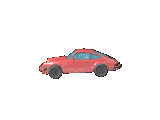 There's nothing I hate worse than burning money in the gas tank. Although I love driving my Baby Blazer, we've learned to conserve, not only for the environment, but for our budget.
How can we save money on gasoline, thus reducing our imprint on the environment?
There are a lot of ways, including buying a car with higher mpg. That's not realistic for most of us, so here are 5 ways you can help the environment and save yourself some green in the process:
Combining trips: According to Consumer Reports, starting the engine cold each time you make s short trip reduces the mpg by as much as 4 miles. At $4 per gallon, that's up to $16 additional you're burning for each short trip. As well, a cold engine emits more pollutants than a warm one. It takes some forethought and planning, but we get 6-7 errands all done in one day (typically a 6-7 hour trip on the weekends. Make an errand list, bundle trips. You might not really need to go to the store today, the post office tomorrow and the bank the next day. How about waiting until that third day to make all of those trips? Do you really need to take the kids to school and pick them up, idling your car in those long lines in front of the school? Can you make a fun family trip to and from school by walking or biking? Can they take the school bus, which is running anyway? Challenge yourself to cut one short trip per week, when you accomplish that, challenge yourself to cut two and keep it going. Note how much you're saving in gas.
Let the wind blow through your hair: Around town, using the air conditioning reduces your mpg by 3 miles. That's $12 extra in your pocket. I'm rarely on the highway and I like driving with the windows down. I can always comb my hair.
Drive the speed limit. I know. We're always in a hurry, but driving the speed limit could save you 5 mpg in gas, cutting from 65 to 55. If you increase to 75 mph, it further decreases your mpg by 5. Is it really worth up to $20 more to drive fast?
Eliminate the unnecessary from the trunk and the back of your truck. Extra weight may be needed in really bad snowy or icy weather, but if you don't need that weight in your trunk or pick up bed, take it out, as it is costing you and costing the environment.
For a complete list: Go to the FTC website, which has a complete list of tips, including keeping your engine in great shape and your tires filled properly.
What are some of the ways you've been able to save on gas?