Altering Recipes at Our Little House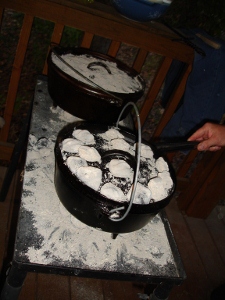 A Sunday afternoon in the city would most likely find us at our favorite Mexican restaurant in the city, but a Sunday afternoon at Our Little House is much more fun.
Dale gets the Sunday supper cooking duties in the summer, which typically means grilled fare, or if it is cool enough, Dutch Oven Cooking.
Although Sunday wasn't a cool day, we combined grilling pork chops with a couple of recipes he has wanted to try Dutch Oven style.
The first is a dish we've tried before, Dutch Oven Potatoes in a 12" Dutch Oven, which comes from the book, "Camp Dutch Oven Cooking."
The recipe calls for 1 – 1 ½ pounds of bacon and Dale put about 6 slices in it. He loaded it up with onions though, thinking that would compensate for the reduced bacon.
I was in charge of mixing the "Charley Bread," a recipe my hubby wanted to try because it contains creamed corn, a favorite of his. I intentionally left out the 2 tbs. Of sugar and 1 tsp. of salt. Sugar is not good for us here and salt isn't either, and since most things have too much salt, we didn't think these omissions would matter.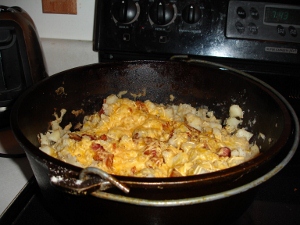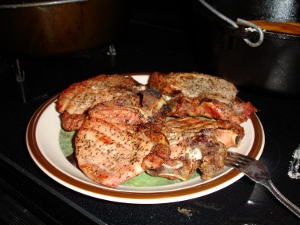 The results were pretty dishes, but they lacked in flavor. We forgot when we are leaving some ingredients out, we should put something else in to compensate.
They were edible, but both of them needed something.
Since Sunday, I've come across these posts on foodie blogs I enjoy. The first one from My Kids Eat Squid, about flower pepper. I wondered if that could have brightened our potatoes up a bit.
The other one is a completely delicious looking recipe at No Pot Cooking combining plums, chicken and couscous I think we will try next week. Although I think we'll stick to the recipe this time.
Do you alter recipes? Do they turn out well for the most part?