Math for Grown ups at Our Little House
Note to our Living Large community: I took an extended weekend this past holiday. This is Thursday's post, coming to you a bit early! Nest week, we're back to our regularly scheduled Tuesday and Thursday posts!
___________________________________________________________________________________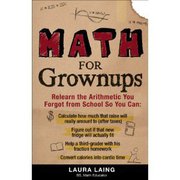 Raise your hand if you're one of those people, like me, who have had problems with math all of their lives.
I'm not sure where my problems began, although I do know my mother didn't like math and wasn't good at it. My dad only had an 8th grade education, so he wasn't a lot of help either.
I had to take Algebra I in both 8th and 9th grade and because I wasn't required but to have one year of high school math, my second attempt at it counted as my math credit for graduation.
I was thankful I didn't have to take it again until college, at which point, I had to take remedial college math to even make it into statistics, which I also had to drop once and take again. I had to pay for a tutor both semesters.  
Math wasn't my friend and by the time we built Our Little House, I was not ready to deal with the square footage measurements, dimensions to get cabinets and the refrigerator to fit, or even the coordinates for our land survey.
My aunt drew up our house plans and I learned from her construction background about calculating square footage.  But that was all I knew how to calculate when we built The Belle Writer's Studio. I had to rely then on our builder. He did a good job, thankfully, but I like to be more versed in a subject when overseeing a project.
If I had the book, "Math for Grownups," then, it would have been better.
The author, Laura Laing, takes the mystery out of math in this book and even makes it fun! She not only deals with calculations for home projects in the book (Chapter 4), but how to also expand or contract recipes, budgets and so much more.
The publisher has agreed to give one copy of "Math for Grownups" to one lucky Living Large reader. And, you can have up to 4 chances to win! This contest is open to any of our Living Large community, anywhere.
Here's how you can enter:
Comment on this blog post between now and 3 p.m. CST on Monday, July 13 for one chance in the drawing.  PLEASE make sure to leave a link back to you, or put your email address, so I may contact you. If you win and do not claim your book by Tuesday, July 14, another winner will be selected.
For three more chances to win, you also need to mention in your comment that you did these things:
Join our Living Large Facebook page. Click on this link and hit "like." If you already are a fan of Living Large on Facebook, tell me in your comment on this post and you still have another chance to win.
Ask your friends to join Living Large on Facebook by posting a link to the Living Large page in your newsfeed to your friends. Suggested message: "There is something for everyone on this Facebook page: Home and garden, sustainability, living a simpler and happier life. Won't you like this page too!?"  
For a fourth chance to win, send this Tweet out to your Twitter followers: RT@fivecoat Comment for a chance to win the book, "Math for Grown ups" http://su.pr/2s5ftx
Good luck to everyone!
Is math your friend? When did your relationship with math begin?