Lightening Bugs: No Matter What They're Called, They are Magic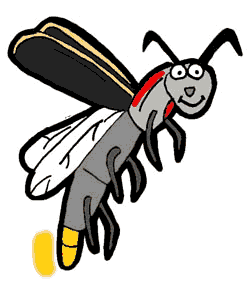 Summer is a magical time. Spending more time outdoors, growing our veggies in our deck garden, firing up the grill on hot summer nights and entertaining on the party deck.  
It also means we can watch the lightening bugs.
Yep, in Kansas City where Dale and I grew up and here in Arkansas, they are lightening bugs, not fireflies.
A few weeks ago, there was a thing going around Facebook about regional language differences and I figured out that "lightening bugs" was more of a Midwest to Southern term, while fireflies seems to be used more in the North and Northeast.
My friend and neighbor who lived in Kansas City 20 years before moving here to Arkansas, but who grew up in California, was telling me how her and her husband enjoyed the magic of the "fireflies," as they sat outside the other evening.
"I can tell you're not originally from Kansas City, we called them lightening bugs," I told her.
I went on to tell her that these held special childhood memories for me, as they do most kids who grow up in lightening bug country.  Every evening at dusk, the neighborhood kids would gather in our side yard of The Little Green Bungalow and catch lightening bugs in jars.
"We didn't have them in California," she said.
That reminded me that Meg-Ann, our Australian daughter, who had played with lightening bugs as a child when her family lived in St. Louis for a time, reveled in rediscovering them the year she lived with us, as they don't have them in Australia either.
Although 16 at the time, she displayed a childlike delight in watching them on long summer nights.
I can't imagine a childhood without lightening bugs and I've really enjoyed watching them from the party deck these past couple of weeks. They dance and twinkle against the backdrop of the forest. We thought they were beautiful in the suburbs, but they are truly awe inspiring on the dark nights we have here in the woods.  
I did a little reading on lightening bugs this past week and found a whole chat room dedicated to what people call these magical little creatures. "I grew up in the south calling them lightening bugs, but I call them fireflies now because it sounds more poetic," one participant wrote.
I discovered that my intuition was correct, the bugs we are seeing this year are earlier than in years past. This article suggests it is due to global warming, which is having an effect on almost everything now.
I also learned that like most insects, lightening bugs do not have a long life span and will be dying soon, so I intend on getting out every evening and enjoying their  spell  for as long as it lasts this summer.  
Do you call them fireflies or lightening bugs? Do you have special childhood memories of lightening bugs or were they not present where you lived as a child?