Do Cell Phones Damage our Cells

Every other month, it seems, someone else is coming out with some new study with regards to cell phones and whether they may cause cancer.
This past week, The World Health Organization released a report saying it believes radio frequency electromagnetic fields may be a carcinogen and maybe lead to an increased incidence of glioma, a certain brain tumor. The organization placed it in the same classification of lead, DDT, engine exhaust, and chloroform.
Now it seems that everyone is talking or writing about the possible dangers of cell phones, even a Living Large community member, Sheryl Kraft, on her blog, Midlife Matters.
Some scientists even believe that electromagnetic pollution is one of the most threatening things in our environment.
I've been a long-time cell phone user. I still even have, somewhere in one of our storage buildings, my first bag phone. Prior to that, I had jobs that also required me to wear a pager.
I guess it is a good thing that although I've had pagers and cell phones for over 20 years, I really never talked on the cell phones much.
The reason lies in the same principle that makes me believe microwaves are not good for us: I listened to my body.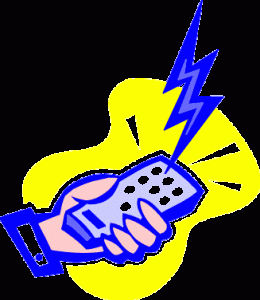 As you might recall, I convinced my husband to chuck the microwave last summer. It was in the summer of 1975, or somewhere around then that as a young tween getting ready with a friend to go to the pool that something told me that anything that can make a hot dog explode in under 2 minutes is dangerous.
While the microwave never made me ill, that I know of, long cell phone use for me always meant my conversation was followed by an excruciating headache.
When we moved to Our Little House, we had to get "stronger" cell phones due to the remote location and the old technology on the cell tower nearest to us. If I didn't like cell phones before, I sure didn't want stronger radio waves piercing my brain. I did get a corded earpiece and I can use it sometimes, although more times than not, there is too much static and I have to retreat to using the phone itself.
In addition to limiting my cell phone use, I usually always also use a wired headset when even using cordless landline phones, which also attracts radiation.
One thing I haven't heard a lot about are Wi-Fi connections with laptops, iPads, iTouch and ereaders.
A little research reveals this is just as bad, or maybe even worse, as people are exposed for a longer term to wireless routers in the home and in public.
What to do?
Aside from chucking all of our wireless devices or wearing the equivalent to tin foil hats in some of these high priced "solutions" at this site, there are some things we can do to limit our exposure:
First, heed the warning on your cell phone and try to keep it away from your head when in use. According to my research, texting is not as dangerous, as you aren't holding the device up to your noggin. If you're like me and don't text, use a wired headset. If you don't have one, use the speakerphone function so you don't have to put the phone directly to your ear.
If you're sitting at home and still have a landline, yep, it's best to go back to that old corded phone. Need to walk around while chatting? Use a corded headset plugged into your cordless phone. I use Plantronics headsets and they are great and the sound is crystal clear.
Rid your bedroom of wireless devices and even cordless phones while you sleep.
Turn off all of your wireless devices when not in use. Wireless routers will still emit some radiation; so try to contain those by putting them in a different building (mine is in The Belle Writer's Studio).
Never use a laptop or ereader while it is sitting right on your lap. If you have to, put a buffer between it and your body.
Do you worry about cell phone radiation, particularly if you have a small house or children?