Curbing Unwanted Snail Mail at Our Little House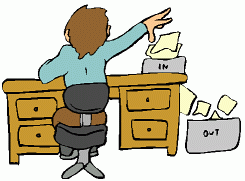 Junk mail is the bane of anyone, but especially when you live in a small space.
We have to find a spot for anything that comes through the door of Our Little House and that includes mail.
I've recently written about our new mailbox, which is being painted this week and hung at The Belle Writer's Studio, where the mail is sorted and either kept or shredded.
In the past four years, I've learned how to greatly reduce, and in some instances eliminate it all together.
This was a necessity, especially since I was the executor of my mother's estate and all of her mail was forwarded to us after her death.
When my mother's mail was forwarded to us, I even started receiving pre-approved credit offers for my father, who has been gone now for 30 years!
The most ironic piece of junk mail we received for him was a "pre-approved" offer for life insurance. I thought of calling the company and telling them I wanted to accept it and make a claim on the same day.
Seriously, if you want to reduce the amount of junk mail you receive, here's three tips that I guarantee will reduce it significantly within a period of 6 months or less:
Catalog Choice: My mother was the Queen of Catalog shopping and when she passed away, all of them started coming to Our Little House. Somehow, we also were placed on some of these lists. This is a great one stop website where you can opt out of receiving certain catalogs. I maintain "opt out" accounts for all of us through this website. Most companies will respect the request. Others will not. I find this is also an on-going process. Some may remove you for a time and then put you back on the list. Just this week, I had to update my opt out request for catalogs I know I had opted out of before, but it is well worth it and you will reduce the amount of catalogs you receive in about 3 months.
Direct Mail Choice: The Direct Mail Marketing Association maintains a list where you can opt out of pre-approved credit, insurance and most other offers. This was excellent for us, as we were also able to list both of my parents as deceased and we have effectively stopped all offers coming in their names.
Going paperless: As a pre-digital age child, going paperless was a process for me. It was hard for me to accept that I didn't need actual paper bills or paper bank statements to do our budgeting each month. Once I got it on the computer though, it has not only lightened our paper load, it is so much faster and easier! I do feel I still need some paper statements that go with my business accounting back up, but in general, I now pay everything online. What do I need a copy of my bank statements for when my bank will maintain them for me and I balance our account online?
Using just these three tips, I've reduced the amount of mail we receive by snail mail each day by a good 90 percent.
Do you have any other tips on reducing unwanted mail?