A Visit to The Belle Writer's Studio
I had a request from someone new to Living Large to write more about the Belle Writer's Studio, my 320 square foot-studio office that is about 10 yards away from Our Little House.
It's named for my mother, Betty Belle, whom I credit for the creative side of my brain.
When we built Our Little House, we planned on building another larger house, about 1,000 square foot to be our primary residence, and Our Little House was going to be my writer's studio.
Best laid plans.
You can read the full story that was featured in Mother Earth News, but we ended up building a separate office for my work.
It is truly my little piece of heaven. It's not only where I work, but also where I can escape from the television in Our Little House to just have some peace and quiet while reading or doing research.
The Belle Writer's Studio has a full bath, or what my husband calls my "executive lavoratory."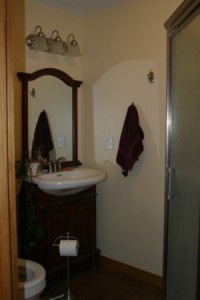 We learned a lot from building Our Little House.
Things I felt we did right when building the Belle Writer's Studio:
Put in a reinforced storm shelter, which also serves as storage for archived business papers.
Designed a cathedral ceiling, giving the illusion of more space.
Installed a wall mounted heat/air unit (although as you've likely read in prior posts, it would have been a Mitsubishi instead of Fujitsu).
Love my covered front porch
Put in large windows giving lots of light
If I could change just one thing, I would have managed to attach it to the house somehow. I've written in the past about the difficulties obtaining a home mortgage on a small house and banks will not consider a detached building, finished or not, as part of the residence.
I love my Belle Writer's Studio and it took me awhile to settle on wall décor, but I ended up carrying the bear theme (although more touristy) to the studio on the "reading" side of the room and in the bathroom.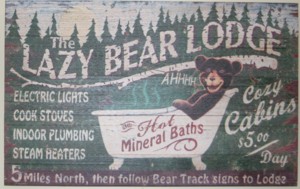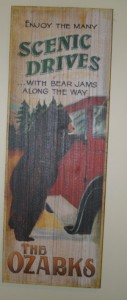 On the office side, I've included photos from favorite travels (still need a framed print of the Country Club Plaza in Kansas City!) and my framed copy of my first published essay for which I was paid and a copy of the check (cashed it, of course!)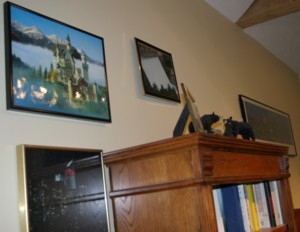 If you live in a small space or are considering downsizing, how will you handle "office space" (even if it is just for your personal computer to pay bills, etc?) Or, if you have an office space, is it a designated former bedroom, on a separate floor or in a separate building?