Our Little House in Tornado Alley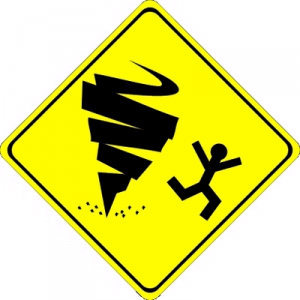 Last week, I posted that spring has finally sprung at our house.
This week, it is summer. We already have had to turn on the air conditioning.
The heat may bring more of a chance of severe weather. Last week was a particularly deadly week in the Ozarks. As we now know, on Sunday a rare, monster EF5 struck Joplin, Missouri. By Tuesday, 14 others had died in tornado outbreaks in Kansas, Oklahoma and in Arkansas to the southwest of us.
A few times, I saw people posting on Facebook, "I'll take hurricanes over tornadoes any day, at least with hurricanes, we get notice."
I was reminded of a conversation my mother always had with her cousins who lived in California. They would inevitably ask, "How can you stand living here with the threat of tornadoes?" and she would respond, "How can you stand living out there with all of those earthquakes?"
As a life-long resident of "Tornado Alley," who spent my early years in a little bungalow that sported a tree in the front yard with an oddly twisted trunk, I guess it's all a matter of perspective and a matter of how you prepare.
The twisted tree at the little bungalow was damaged when it wasn't very old. Even after a twister disfigured the trunk, my mother didn't want to get rid of the tree, as by that time, it was beginning to provide much needed shade to help cool the house. As the years passed, it also gave my mother plenty of opportunity to tell everyone about the night my dad continued to snooze in his favorite chair, even as the tornado mangled the tree, which was not more than 10 yards outside of the house.
My mother returned from taking cover with my three older siblings and Dad was still snoring. His also being a native of Tornado Alley could have worked tragically against him, as it does for many who don't heed the warnings.
Running up to my Godparent's house as the storm sirens blew was a common occurrence when I was a child. They had a full basement and we did not. Besides, it gave our mothers an excuse for an extra coffee klatch. If the storms were threatening us throughout the night, my mother and I would sometimes spend the night up there.
When Dale and I bought our first home in Kansas, a basement was a necessity. When we built Our Little House, I guess we weren't thinking of it being a permanent residence, so it only has a crawl space.
However, when our mountain was hit with a small tornado that took out most of my aunt's trees and some of ours, we realized we had violated the first rule of living in such an area. That point was further driven home that first winter here when a January tornado destroyed much of a town about 15 miles away.
That year, when we built The Belle Writer's Studio, I insisted on putting in a reinforced storm shelter.
Last Sunday, as we watched on radar the deadly storm that produced the F5 in Joplin turn south, I put on my shoes, put the dog's harnesses on them and made sure their leashes were within reach.
By the time it reached us, the storm had lost its punch, thank goodness, but we were prepared and we stayed prepared throughout the many severe weather alerts throughout most of last week.
Just as it is with living in a zone prone to earthquakes, hurricanes, nor'easters or even terrorism, the key is preparedness and heeding the warnings when we get them.
What is the biggest threat in your part of the country? What do you do to prepare?