Justifiable Spending in the Second Degree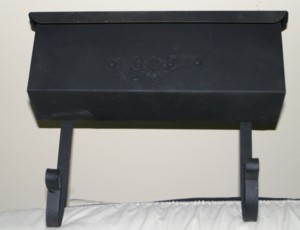 Dale and I found our way into another thrift/antique store this past weekend. You might recall that I'm on a quest to find the remaining antique red wooden handled utensils.
I didn't find anymore utensils to complete my set, but instead found this old/new mailbox.
I know. I'm supposed to be whittling away by getting rid of the mountains of stuff in our storage building – or at least not purchasing any more stuff – but there really is a method to my madness here.
As a former cops and courts reporter, I'm calling it "Justifiable Spending in the Second Degree." First degree, of course, would be planned. This was not planned.
Here's how the mail thing works at Our Little House: Dale brings in the mail from 2 miles up the road at the Big Box when he comes home from work. He drops it on the kitchen table. If I'm busy, I don't look at it and it piles up until the weekend. On the weekend, I'm frustrated that my kitchen table is a mound of mail and I'm spending time going through it and clearing the clutter.
The Belle Writer's Studio is supposed to be mail central. This is where my computer is set up and I can opt out of catalog lists via Catalog Choice. It is also were I can log on and pay bills, so it makes no sense for the mail to come to Our Little House and for me to have to go through it and take it over to The Belle Writer's Studio.
So, on the way down the driveway Dale can now stop at the new/old black mail box at the studio, which we will spray paint red, and put the mail where it belongs. When I can grab it and sort it, I will.
No more clutter on the kitchen table.
Even with that good reason, we hem and hawed over this mailbox for a good 10 minutes. Circle another display. Come back and pick it up, put it down. Finally, Dale said, "It's obvious you want it, just get it!"
There were also two more benefits of getting the mailbox.
It reminded both me and Dale of the mailboxes that were affixed to our childhood homes back in Turner, Kansas.
We were in the Humane Society Thriftshop and you know me and animal causes. It was worth the $5 just to give them some money!
What was the latest purchase you had to justify to yourself? If you're trying to minimize your stuff, do you think there really a good justification for buying something else?