Dancing in the Streets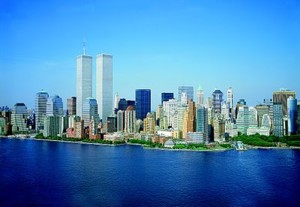 Taking off from LaGuardia airport in NYC last Sunday on a brilliantly clear morning was breathtaking.
The sun was just coming up over Manhattan and I could see the entire island. I landed on a foggy night five days prior and this extraordinary view gave me a first-hand look of the entire New York skyline for the first time since 9-11-01.
My job in the corporate world took me to NYC frequently back in the early 1990s, but I hadn't been back since 9-11. Working for one of the largest banks in the country at the time and spending time in the financial district gave me an upclose appreciation of the symbols the WTC represented.
Of course, I have seen photos and film of the skyline without the Twin Towers, but it's nothing like seeing it first hand.
As I surveyed the skyline early last Sunday, seeing the sun just beginning to catch parts of the city in its shine, I thought of 9-11 and how brilliantly clear that morning began as well.
I thought of just a few of the thousands of stories of the lives lost: Unsent wedding invitations for a wedding that would never be lying in the  rubble, the children who lost one or more parents – some before they were even born, the woman who committed suicide in her country home that Christmas because the love of her life perished in the WTC just months before they were to start a new phase of their lives as retirees.
Even with those stories running through my mind, I still could not grasp the hole in the skyline.
I started to turn to the nice young man sitting next to me and tell him this. He is a New York native who had been studying in Dallas the past few years to become a rabbi.
I decided better of it. As a New Yorker, a young one at that, he, like many other New Yorkers have surely grown more accustomed to the skyline without the World Trade Center. He may not even be able to remember a skyline with them in it. He surely couldn't know how I felt nearly 10 years later, still trying to grasp the concept of the tragedy.
And so, I watched the New York skyline grow smaller and smaller as we made our ascent. My silent tribute to the lives lost in the air and in the buildings.
Dale and I heard of Osama bin Laden's death here at Our Little House the next morning. While we both felt justice had been done and a principle threat to our country and its people eliminated, we were not joyful.
As part of my job as a correspondent for Radio New Zeland, I was asked in an interview last night how we, as Midwesterners feel about Osama bin Laden's death.
A quote attributed to Martin Luther King, Jr., went viral on the Internet and although later it was determined to be nothing he ever said, it still embodies our thoughts:
"I mourn the loss of thousands of precious lives, but I will not rejoice in the death of one, not even an enemy. Returning hate for hate multiplies hate, adding deeper darkness to a night already devoid of stars. Darkness cannot drive out darkness: only light can do that. Hate cannot drive out hate: only love can do that."
When I saw Americans dancing in the streets of NYC and Washington D.C. at the news of bin Laden's death, I thought back of a very young man from the Middle East who was  dancing with thousands in the streets in his country in the days following 9-11.
He was cheering and holding the iconic photo of the second plane hitting the WTC. An American reporter then showed him footage of people jumping from the windows to escape the flames engulfing the towers. The reporter told him that these were civilians, not soldiers. They were mothers and fathers and sisters and brothers who were only trying to live their lives. Now, in that footage, they were deciding how they would die. The Middle Eastern man stood frozen, his smile disappeared and he looked solemn. "I didn't realize this," he said.
It appeared that a small link had been removed from the circle of hate.
While Osama bin Laden was certainly not an innocent civilian and I can see the need for the families of those lost to have justice and for a country to remove from the world those who set out to do us harm, I couldn't help but feel that joyful celebration will only bring us more misery.
Returning hate for hate, multiplies hate….
It's the Law of Attraction.
What do you think??