A Stinky Problem at Our Little House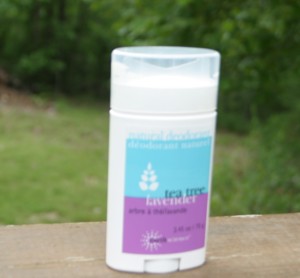 It's never good when this conversation takes place:
Me: "I don't think my new all natural deodorant is working very well."
Dale: "I'm glad you noticed."
Alexandra Grabbe, a member of our Living Large community that also runs a green B&B on Cape Cod and writes the  B&B blog, Chez Sven, is my anti-chemical hero and after learning a lot from her writings, I decided to embark on my own quest to eliminate as many chemicals from our lives here at Our Little House as possible.
That includes ones we ingest and that come in contact with our skin. I'm using the fabulous all natural Indigo Wild products and some all-natural skin care products.
I decided to try an all-natural deodorant last month.
It's "All Natural Deodorant" tea tree and lavender scent by Earth Sciences. I bought it at the organic store nearest our house.
I asked the clerk if they could recommend one and they said they sell this one "a lot," but personally couldn't recommend any, so I bought their best seller.
Shortly after, I was sharing a pretty small NYC hotel room with Roxanne Hawn, another Living Large community member, who was at the conference to talk about her excellent dog blog, Champion of My Heart.
I asked her if my new deodorant was working and she was either too polite to tell me the truth or maybe I was more vigilant about applying it there than I am here in the woods.
Or, it could be the night sweats that I am now suffering.
Either way, I'm thinking of going back to what I've been using since I was a teen, Secret, despite the chemical additives.
Often, the only person I see is Dale for 7-10 days at a time. I still can't do the whole all-natural-not-bathing-or-washing-my-hair-or-not-applying-stuff-that-makes-me-smell-good thing.
Any ideas, Living Large community on natural deodorants and other personal care products that actually work?