The Bigger and Greener Picture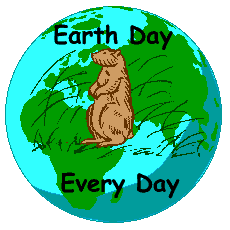 During this Earth Day week (it is this Friday, April 22), I can't help but reflect on the state of the world.
It seems the past year has been one major environmental disaster after another.
First, there was the Gulf oil spill last spring, which, according to this interview on NPR, didn't have the magnitude of effect on the environment as it could have.
I'm sure the hundreds of thousands of fish, birds and other wildlife that were impacted wouldn't agree.
And then we had the horror of the earthquake and tsunami in Japan, which has created a nuclear disaster on par with the 1986 Chernobyl incident.
There are a lot of things I find disconcerting about both of these disasters, but one of the things I hate is the short attention span the public has had overall in both of these incidents.
After the initial oil spill and when there didn't seem to be anymore headline grabbing photos, the media all but gave up reporting on not only the environmental effects the spill had in the Gulf, but on the land and business owners who were impacted.
This NPR interview (notice a pattern emerging here, NPR, which Congress wants to do away with is one of the only organizations still reporting on the Gulf spill) reveals just how little BP is doing now to continue to mitigate the environmental effects as well as paying business owners in the region.
It's been a month since our local radio station first reported that Arkansas officials didn't have the means to measure radiation in our rain and then came back within the next few days to report that yes, the feds were monitoring and there was in fact, higher radiation levels falling from the sky.
I asked my friend and neighbor's opinion. She has not only worked in a nuclear power plant as an electrical engineer, but also has the super hero ability to read more news in one day than I can in a week. She's looked at the EPA findings and isn't overly concerned right now, but says that may change, depending on how long it takes Japan to stop the leaks. She also cited findings of leading nuclear scientists who say the reactors need to be buried as soon as possible.
This article seems to suggest the power plant could be leaking for months, although it also suggests that they eventually do intend on covering the plants with sand and concrete.
Both of these disasters were caused by many factors that lead to our insatiable appetite for energy. We demand our government leaders "live within our financial means" by balancing the budget. Yet, we get up every morning, turning on lights, driving as we always have and using energy as if our sources for energy will last forever and there isn't a care in the world as to how we will continue to harvest it.
What's worse, is that our governments don't seem to be doing a thing to either find cleaner energy, but conserve what we have. For example, Texas is literally on the road to raising the speed limit in parts of the state to 85 mph.
Congress is dragging their feet on tougher legislation to make oil rigs safer and several politicians are still touting the benefits of nuclear energy as a "clean" energy when, after 40+ years of operation, they don't know where to put the waste and cannot guarantee the safety of the buildings when they are constructed.
With all this news, the push to provide for a greener, safer world may seem moot. But the truth is that it does all start with us.
We just have to keep on top of it and pay better attention. I, for one, am going to write my Congressmen this week and ask why they haven't passed the bill for safer standards on off shore oil drilling.
Looking at the big picture, what will you do to help the environment this Earth Day, based on recent environmental news (there will be a quiz on Thursday regarding smaller steps we can take in our own homes – hint: there's a book giveaway coming!)