I Heart NYC and Living Large
Congratulations, Kerry! You've won the copy of The Green Year! Please contact me ASAP at fivecoat@ozarkmountains.com with your snail mail address!
____________________________________________________________________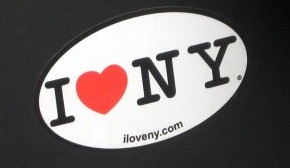 Living in Our Little House and creating Living Large has brought us so many unique opportunities.
For example, thanks you to, the readers, Living Large has been so successful, I was asked last fall by the American Society of Journalists and Authors (ASJA) to moderate a panel on "Creating your Blogging Niche" this week at their national conference in New York City.
NYC is one of my favorite places to visit although I haven't been in some years.
When I was getting my work all done this weekend and trying to prepare the house, the dogs and the husband for the pet nanny/house sitter to take over the daily chores here while I'm gone, I was thinking about what I would tell aspiring bloggers about what makes Living Large click.
Of course, I have a line up of fantastic speakers for my panel that will be sharing about their blogs, including Roxanne Hawn who frequents Living Large and writes Champion of my Heart, but I will also throw in my thoughts at some point:
Definitely one of the main points that make Living Large work is the fact that living smaller and more sustainable is a hot trend. I hope by putting our experiences out there, it will help people who are living in small quarters or a more sustainable life, learn from our successes and our mistakes!
I also try to write about "universal" experiences. Someone may not have the same exact experiences as we are having, but I hope most of my posts make people think, "I know what that's like," or "I can relate to that."
Finally, the greatest thing I believe about Living Large is that I envisioned a true community when I launched it. I didn't want to be sitting here writing to the masses without interaction from people who visit, be it for every post or a few times a month or even less often. I wanted the community to feel a part of something and interact, not just comment and receive no response.
It isn't always easy coming up with posts, but just thinking about the Living Large community made me so happy this past weekend. I cannot wait to get out and share about our blog this week!
And if you're in the NYC area this week, the conference isn't just for established professional writers. They are having quite a few panels and workshops on blogging, social media and other genres of writing for every level of writer. It would really make my day to see at least one of our LL community there!
Do you have any thoughts on what makes Living Large a frequent cyberspace destination or have ideas that could make our community even better?