An Earth Day Book Giveaway at Our Little House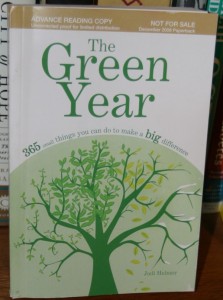 Tomorrow is Earth Day and Jodi Helmer, author of "The Green Year," is back with an insightful interview and to give away one of her books.
She also shares two tips with us that weren't included in the book.
I've featured "The Green Year" here before. I've had the book since it was published in 2008 and still routinely look through it to get more tips on small things we can do at Our Little House.
Enjoy the interview and make sure to leave a comment at the end of this post by noon CST, on Monday April 25 to register to win a copy of the book. You also need to leave your email address so I may contact you if you win. I will also announce the winner on Tuesday's post.
Happy Earth Day!
The Green Year still seems to be the one book I go to when I'm looking for ideas to help the environment more. While most books have limited shelf life, this one seems to be truly evergreen (pun intended). Did you realize this when the book was released?
Jodi:  I'm glad the book has been so useful!
While I was researching and writing The Green Year, I hoped it would be an evergreen book – something readers could pick up at any time and find simple ideas to make their lives more environmentally-friendly; like all authors, I wanted the book to have an unlimited shelf life. The Green Year continues to sell well so I believe it has been a go-to resource since it was first published in 2008.
The environmental news hasn't been good this past year with the spill in the Gulf and Japan's nuclear disaster. Sometimes, it really just seems hopeless. What one piece of advice would you give our Living Large community about doing their part?
Jodi: It's easy to feel powerless, especially in the face of such significant threats to our environment.
The Green Year is based on the premise that small actions do add up. Recycling is a great example. It's not going to change the world if one person in the Living Large community takes that step but if all of the members take action and encourage their friends and families to do the same, the cumulative effects are huge. It's like the shampoo commercial from the 1980s: she'll tell a friend and she'll tell a friend and so on and so on.
The best advice I can offer is to make a commitment to lessen your environmental impact and then spread the word about the importance of making small changes; others will catch on and together we can make a difference. Sounds cliché but it's true.
You have a lot of great tips in the book. Have you found any new tips since the book came out that you can share?
Jodi: Great question! I come across new ideas all the time and think, "I wish I'd known about that when I was writing The Green Year; I would have included it in the book!"
Here are two that weren't included in The Green Year:
Consider raising backyard chickens: Most of the eggs on supermarket shelves come from factory farms, which contribute to a host of environmental issues. Most municipalities allow residents to keep chickens (though you should definitely check local ordinances first). You'll have organic, local eggs at your doorstep. As an added bonus: Chickens will eat pests like grubs and their manure makes great fertlizer!
Organize a walk-to-school group: Skip the carpool lane and start a walking club for the neighborhood school kids instead. Parents can take turns walking the troupe of kids to school each morning, cutting down on the pollution from passenger vehicles (which create almost a third of the air pollution in the United States) while the kids get some early morning fresh air. If you live too far from school to walk, start a community carpool; it'll cut down on pollution and reduce the number of cars idling in the school drop-off zone.
Are you planning a Green Year II?
Jodi: There are no plans for a Green Year II. I do have an idea percolating for another green book but I'm not ready to share the details yet 😉
Thank you, Jodi! Living Large community, what small change do you plan on implementing in honor of Earth Day 2011?