The Made in America Challenge at Our Little House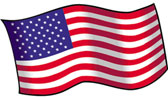 Have you heard about the Made in America Challenge that ABC World News is airing this week.
As I write this, I haven't seen any of the segments yet, but it does sound interesting – ABC challenged one family to eliminate anything in their home not made in the U.S. and try to fill it only with Made in the USA items.
For our international community, this may seem like nationalism gone awry, but there is actually solid reasoning behind it.
When I was growing up in a solid, bluecollar union oriented community, the exception wasn't to find something Made in America in our households, but finding something not made in America.
Manufacturing has been the backbone of the American economy since the Industrial Revolution.
That began to change toward the end of the 20th century. It began with electronics and televisions, then foreign cars and by the end of the 20th century, it was hard finding anything made in the good old USA.
Now days, one really has to search for American made goods (one reason we did not choose Lodge cast iron enamelware, which, unlike the regular cast iron cookery, is made in China).
Dale, true to our roots, still looks for the Made in USA label on anything we buy, but most times, we do not find that label. Call centers have outsourced jobs (why this would be funny in a sitcom is beyond me) and even writers have had to deal with overseas writing mills undercutting our wages.
The cause, in my opinion, has been America's new economy, which focuses more on price than quality. One of the best examples of this is the diminishing crafting industry. Living Large member, Alexandra Grabbe, writes today on her blog about one of the braided rug crafters on Cape Cod still making magic.
Beyond the patriotism and ensuring our friends and neighbors continue to have jobs if they produce something here, it is environmentally friendly to buy goods made in your own country, rather than having them shipped around the world.
Besides all of that, why would we continue to import goods from places such as China, who, in recent years, prove they're out to poison our children through the toys and baby formula they produce and our pets through the pet food fillers they make?
In the spirit of the Made in America Challenge, I took just a quick stock of things I knew to be made here:
The 19th century antique dresser that was my mother's and probably the converted oil lamp sitting atop it.
Our hand carved bed and mattress (made here in Arkansas)
The nightstand by our bed
A bottle of Indigo Wild lotion sitting on my sofa table
Probably the sofa table, although I'm not completely sure
Most of the items in our home, including our current set of pots and pans (I haven't fully decided on a cast iron set yet), our dishes, silverware, towels, my Life is Good wear and most of the décor was not Made in the USA.
Can you spot anything in your home made in your home country? Tell us about it in the comments section. International readers, I'm very interested in your take on all of this.