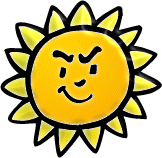 It was Dale's step­mom who clued me in last week that this com­ing Sunday, March 13, is the begin­ning of Daylight Savings Time.
"What? So early!?"
I could have sworn that it didn't begin until April. I would have been right until 2007, when DST was extended from March to November.
I'm all for spring­ing into spring and leav­ing the win­ter behind us, but there are some dis­ad­van­tages to spring­ing forward:
We lose that hour of sleep and hour of pre­cious leisure time this week­end, which makes us feel like we're jet­lagged for a lit­tle while.
Sunlight will now not appear until around

7

a.m., which makes some kids stand in the dark wait­ing for school buses. It also makes me have to walk over to The Belle Writer's Studio in the dark of morn­ing. This is some­thing I haven't liked since los­ing Emma last summer.
It does present advan­tages as well, such as giv­ing Dale an extra hour of light when he gets home from work to do things in the yard.
I did try to research whether DST actu­ally helps save energy, as was the rea­son­ing behind the ini­tial insti­tu­tion of the prac­tice. In the 1970s, research showed it saved the coun­try about 1 per­cent energy use each year.
However, more recent stud­ies, one done in California and one done in Indiana con­flicts on if it actu­ally saves any energy at all.
Love it or hate it, most of us will be set­ting our clocks ahead on Saturday night, ready to spring forward.
Your thoughts on DST?