Saving Daylight at Our Little House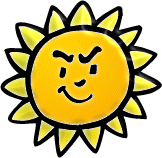 It was Dale's stepmom who clued me in last week that this coming Sunday, March 13, is the beginning of Daylight Savings Time.
"What? So early!?"
I could have sworn that it didn't begin until April. I would have been right until 2007, when DST was extended from March to November.
I'm all for springing into spring and leaving the winter behind us, but there are some disadvantages to springing forward:
We lose that hour of sleep and hour of precious leisure time this weekend, which makes us feel like we're jetlagged for a little while.
Sunlight will now not appear until around 7 a.m., which makes some kids stand in the dark waiting for school buses. It also makes me have to walk over to The Belle Writer's Studio in the dark of morning. This is something I haven't liked since losing Emma last summer.
It does present advantages as well, such as giving Dale an extra hour of light when he gets home from work to do things in the yard.
I did try to research whether DST actually helps save energy, as was the reasoning behind the initial institution of the practice. In the 1970s, research showed it saved the country about 1 percent energy use each year.
However, more recent studies, one done in California and one done in Indiana conflicts on if it actually saves any energy at all.
Love it or hate it, most of us will be setting our clocks ahead on Saturday night, ready to spring forward.
Your thoughts on DST?