Getting Hung at Our Little House
I finally got in the mood to decorate my walls in Our Little House. I guess after living here full time for over three years, it's about time.
Like I told a friend of mine, no one can ever accuse me of decorating on a whim!
I'm not comfortable with decorating anyway and I think one of the things that intimidated me about decorating such a small space was the fear of cluttering the walls and overwhelming the space.
I had three hangings I had put up when we built Our Little House, all cute things, albeit small, that went with the cabin feel theme.
We received a couple of things for my birthday and Christmas, so my problem moved from being afraid of buying things too big for the space, to where to hang them.
I also bought the "Life is Good" sign while in Branson for Dale's birthday. It's my motto and I thought a great thing to see everyday, just to remind us.
I reserved the bathroom and bedroom art and family photos and the open living room space mostly for functional, as with a clock, which I hung on the largest wall over the television and a decorative bear thermometer.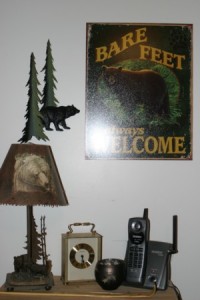 Since we don't have a heating/cooling system with a thermostat, this is a huge help in helping us determine how hot or cold it really is when firing up the wood stove. Since we've gotten closer to 50, our internal thermostats have went a little wonky.
Still, even the functional is relatively small so they do not overwhelm the tiny space.
With the exception of one hanging for the bathroom that was damaged in the move and I'm having repaired at an art studio, I'm now finished with Our Little House.
I'm now obsessing over the Belle Writer's Studio. Although still a small space, cathedral ceilings allow for larger pieces without the fear of overwhelming the walls.
Since it serves two functions, one as my office and the other housing guests, I'm dividing that wall space.
In the sitting and bathroom area, I'll hang reproduction tins about cabins/resorts in the woods. In my office area, framed posters of the many trips I've had the opportunity to take as a writer. On a wall that separates the two, printer's drawers and blocks salvaged from the old now defunct newspaper here.
I'm excited for a new look in both spaces.
How often do you change your wall décor? Do you have a fear of cluttering the walls or over/under whelming the wall space you have?