Adopt the Internet at Our Little House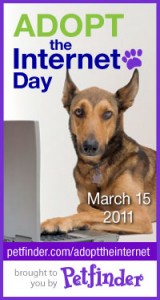 I know the Living Large community understands how important the Fearsome Five, aka The Dogs of Campbell Town are to us and that they are a big part of our lives here.
They bring us unconditional love and on-going joy. All were formerly unwanted by their previous owners, but we view their loss as our gain.
So, today, we're helping get the word out at Our Little House about all of the loving, wonderful pets awaiting homes currently on PetFinder.com.
In honor of the site's 15th birthday, they are asking everyone to help spread the word about pet adoption. They're also giving away some great prizes to some lucky winners for helping and it won't take but a few minutes of your time.
If you participate, you can possibly win a Bissell pet hair vacuum. If you do each of the five things, you can also go to my blog at Rescue Me, add a comment that you helped out and you will also be entered into a drawing for a $50 gift card from K9 Cuisine. Use it to purchase anyone of their fabulous, quality pet foods:
Add a badge (below) to your Web site to show your support.
Take our pledge that you will tell one person about pet adoption on March 15. By pledging, you'll enter for a chance to win one of 10 Pet Hair Eraser® Vacuums from BISSELL.
Caption a Petfinder adoptable-pet photo on ICanHasCheezburger! The photos with the best captions will be featured on the ICanHasCheezburger.com homepage on March 15.
On March 15, donate your Facebook status and photo to an adoptable Petfinder pet. Simply replace your photo with one from the Adopt-the-Internet All-Stars gallery and post one of these messages:

More than 320,000 pets are waiting for homes on Petfinder.com. Help Petfinder Adopt the Internet today and find forever homes for as many as possible!
I adopted my pet from Petfinder and now I want to help get this pet adopted! If you want to help pets in need of forever homes, please repost this!

On March 15, share an adoptable Petfinder pet on Twitter with the hashtag #adopttheinternet.
Place a link on your site back to the petfinder.com page.
I first learned about the importance of adopting a homeless pet back in 1996 when we adopted our first rescue, Hershey Kiss. Have you ever adopted a pet and who was your first?