The Pain of Debt at Our Little House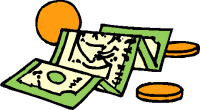 One thing that has been very challenging for us since building Our Little House has been the financing.
I know, the Small House Movement converts and minimalists are probably wondering what the point was of having a small home if we still had to finance.
I've written before about our attitudes towards debt. We were children of the 70s and early 80s that was raised in a culture of having an attitude that debt is ok, particularly on houses and vehicles.
I even worked nearly half of my adult life in the credit industry.
Our attitudes have changed now, our whole goal is to get out of debt, but we really need to refinance Our Little House while the interest rates are low to help us achieve our goals.
When we built Our Little House, it was considered a second home and even in the pre-new-credit world, all we could secure was an ARM. This stands for Adjustable Rate Mortgage, which basically is given at a low interest rate and renewed at different intervals based on the prime rate at the moment.
The problem with these mortgages, as some of you may have read since the real estate crash, is that if the interest rates go sky high, it could price us out of our home when it comes due again. It's also a slow way to pay off a loan.
We thought we could refinance once we moved here and this was considered our primary residence.
And then came 2008 and everything changed. Now days, a person cannot secure a good, fixed rate mortgage without excellent credit and even more importantly, I'm told, good "comps," or comparables. These are homes comparable in size and condition that tells investors your home could sell for near this price if the loan goes bad.
Try finding a "comp" 480-square foot house with a 320-square foot office (or in-laws quarters).
Although we need less than I know some people have put into financing fancy SUVs and as a matter of fact, barely meet the minimum some companies will finance on a mortgage, we would be better off, I've been told by several banks and mortgage companies, if we were needing $150,000 for an average sized home.
I did, finally talk to a local mortgage company yesterday that at first, gave us the same doubtful answer. However, when he pulled some properties that might work as comps, he was surprised to have found some small homes around us that have sold within the past year.
They're larger than ours, but ours has the added office and metal buildings, as well as a lake view going for it.
I also don't think any of those have been featured in Mother Earth News.
Just know if you're going for a small home, or wanting to refinance one, a mortgage might be near impossible in today's credit climate.
And, please, send us all of your positive thoughts and good mojo this last ditch effort at refinancing for a fixed rate works out for us!
Have you tried to secure credit since the crash in 2008? If so, what was the result?