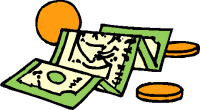 One thing that has been very chal­leng­ing for us since build­ing Our Little House has been the financing.
I know, the Small House Movement con­verts and min­i­mal­ists are prob­a­bly won­der­ing what the point was of hav­ing a small home if we still had to finance.
I've writ­ten before about our atti­tudes towards debt. We were chil­dren of the 70s and early 80s that was raised in a cul­ture of hav­ing an atti­tude that debt is ok, par­tic­u­larly on houses and vehicles.
I even worked nearly half of my adult life in the credit industry.
Our atti­tudes have changed now, our whole goal is to get out of debt, but we really need to refi­nance Our Little House while the inter­est rates are low to help us achieve our goals.
When we built Our Little House, it was con­sid­ered a sec­ond home and even in the pre-new-credit world, all we could secure was an ARM. This stands for Adjustable Rate Mortgage, which basi­cally is given at a low inter­est rate and renewed at dif­fer­ent inter­vals based on the prime rate at the moment.
The prob­lem with these mort­gages, as some of you may have read since the real estate crash, is that if the inter­est rates go sky high, it could price us out of our home when it comes due again. It's also a slow way to pay off a loan.
We thought we could refi­nance once we moved here and this was con­sid­ered our pri­mary residence.
And then came 2008 and every­thing changed. Now days, a per­son can­not secure a good, fixed rate mort­gage with­out excel­lent credit and even more impor­tantly, I'm told, good "comps," or com­pa­ra­bles. These are homes com­pa­ra­ble in size and con­di­tion that tells investors your home could sell for near this price if the loan goes bad.
Try find­ing a "comp" 480-square foot house with a 320-square foot office (or in-laws quarters).
Although we need less than I know some peo­ple have put into financ­ing fancy SUVs and as a mat­ter of fact, barely meet the min­i­mum some com­pa­nies will finance on a mort­gage, we would be bet­ter off, I've been told by sev­eral banks and mort­gage com­pa­nies, if we were need­ing $150,000 for an aver­age sized home.
I did, finally talk to a local mort­gage com­pany yes­ter­day that at first, gave us the same doubt­ful answer. However, when he pulled some prop­er­ties that might work as comps, he was sur­prised to have found some small homes around us that have sold within the past year.
They're larger than ours, but ours has the added office and metal build­ings, as well as a lake view going for it.
I also don't think any of those have been fea­tured in Mother Earth News.
Just know if you're going for a small home, or want­ing to refi­nance one, a mort­gage might be near impos­si­ble in today's credit climate.
And, please, send us all of your pos­i­tive thoughts and good mojo this last ditch effort at refi­nanc­ing for a fixed rate works out for us!
Have you tried to secure credit since the crash in 2008? If so, what was the result?