Going Meatless One Step at a Time at Our Little House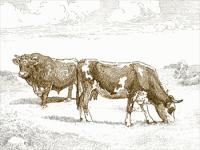 There's a lot on television that makes me want to cry these days – because of the programming choices – but little that really affects me on a deep level.
Last week, as I was preparing a vegetable only vegetable soup in the crockpot, I saw a promo for Oprah's One Week Vegan Challenge in which over 370 of her employees made the commitment to try and go vegan for just one week.
I've never been a huge Oprah fan, but really, this show was phenomenal for me.
I know the information is out there on how to convert to a vegetarian or vegan diet, but I'm definitely a visual person when it comes to cooking and food. I prefer watching cooking shows rather than just pick up new recipes in books (although I do that as well).
I've written here before about my quest to eat less meat. There are two main reasons for this choice, the first being I'm an animal lover and I just don't like the idea of eating them. I've been very conflicted for a long time in eating something when I would not kill an animal myself, nor do I want to see where they come from.
The second point is that I feel it is healthier.
Before we moved from the city, I did manage to cut beef and pork from my diet for nine months. Having a die-hard carnivore in the house just made meal planning a nightmare and I barely can find the time to cook one meal, much less two.
I kind of resolved the animal rights issue in my head by purchasing our meat from a local coop of farmers that sold free range, grass fed meat from animals that were humanely treated, allowed to roam and given access to nature as they were intended to live.
As Michael Pollan said on Oprah, "They live a good life and have one bad day…"
And then we moved to Our Little House where locally grown, free-range meat is harder to find. We were back to buying that cellophane shrink-wrapped stuff in the grocery.
I've had other problems converting as well:
· Learning what to substitute for meat and where to find it.
· Learning to cook it when I do
· Getting Dale to accept a meatless meal
This program really put all of my issues into better focus, the cameras actually went shopping with an employee and Kathy Freston showed the audience viable substitutes for meat that doesn't involve tofu.
It took the audience to a slaughterhouse, which, although it didn't show the "knocking" procedure, we could hear it and it had me crying.
Made me feel o.k. by simply taking it a step at a time and reducing the amount of meat we use at first and looking harder for free range when I do. I doubt Dale will ever go meatless and that's ok for him. We all have our own choices in life, but I shouldn't allow the burden of cooking something extra be an excuse for me.
The show suggested Meatless Mondays, but I already typically cook at least two meatless meals a week.
It did make me feel better when Dale ate the vegetarian vegetable soup I made and didn't ask "Where's the meat!?" until the second day. That proves there are tasty, fulfilling recipes that will satisfy even my meat lover.
Did any of you see the show? How do you feel about eating meat? Are you conflicted at all regarding the origin of what you're eating?