In the Kitchen at Our Little House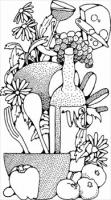 We've given up on trying to eat out here and that isn't necessarily a bad thing. I've written before about how we miss different types of ethnic food, but even the restaurants we have here aren't very good – or good for you.
I was usually caught trying to grab something not very healthy the nights I was covering meetings for the local paper here. On December 30, after I covering one such meeting, Dale and I stopped to get something just a little before 8 (most things, including restaurants, close by 8).
When we were presented with a meal that was lower quality than what we could have found in a TV dinner and could barely choke it down, and then presented with a $25 bill for it, I said, "Enough."
Cooking is something I had to learn. My mom, although a good cook at what she made, was not creative in the kitchen. We came from a regular meat and potatoes stock, so roast, meatloaf, spaghetti and chicken cacciatore was about as exotic as it got.
I have been watching Rachel Ray for awhile now. I like the fact that she wasn't a professionally trained chef and most of her recipes can easily be converted to vegetarian (I would love to go completely vegetarian, but Dale wouldn't, making it tough, so I opt to squeeze in at least a couple meatless choices each week). It doesn't hurt that her pit bull is on her logo and she's into animal rescue either!
Dale even bought me a food processor for my birthday, as I commented that Rachel Ray used it a lot in her cooking. I had also been invited to a Pampered Chef party back in December, so I had a new chopper, garlic press and masher to try as well.
So, the first week of the year, we resolved to quit wasting money on grabbing food, even if I had to cover an event for the paper. I dug out my crockpot recipe book and leaned on a couple of standbys for nights we got home late.
But I also wanted to try some fresh ideas. Rachel Ray has a new show, "A Week in a Day," and while I didn't want to stand in the kitchen cooking a whole week's worth of meals on the weekends, I chose a couple of her new recipes to try on my slow days last week.
The first one, Portobello-Porcini was just ok. Nothing I would make again. Of course, I had problems finding a couple of items on the list here, cubanelle peppers and San Marzano tomatoes, so that could have been the problem (I substituted Italian tomatoes and nothing for the pepper). Dale isn't a big pasta fan either, so I had that working against me as well.
The second recipe, Roast Chicken Enchilada Suizas Stacked Casserole was a big hit, but I knew it would be, given our affinity for Mexican food. The recipe was really labor intensive, Rachel might not be a professionally trained chef, but her definition of "easy" and mine are two different things. I cooked the chicken in the crockpot rather than roasting it, but it was fun and I got to use my new food processor!
I also used tomatillos and fresh garlic for the first time in my life. Yes, there is quite the difference from the dried garlic in the little spice jar!
This week, I decided not to try anything new on Dale and stick with some "traditional" standbys, I don't want to overwhelm his taste buds, or wear out my new processor or other new kitchen tools just yet.
Do you have a new favorite recipe? Do you get creative in the kitchen?