Hot Over the Air Unit Part Two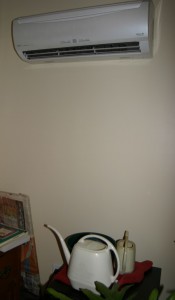 Last July, I wrote about the 1-room heating and air unit we installed in The Belle Writer's Studio and the problems with it dripping water.
I finally solved that in August. Turns out the hose on the outside of the unit was clogged. I took it off, blew it out with Dale's air compressor and we were back in business.
After having to get it charged earlier in the summer, I didn't want to spend another $75 for a service call then and sure didn't want to do it this winter either.
Just as the unit passed the two-year mark and ran out of warranty in December, the unit started making a very loud buzzing noise.
The buzzing wasn't very loud at first but grew to a loud whir as the winter wore on. There were some days I thought I just might shoot the thing off of the wall.
I called our service company. The owner, who recommended this model instead of the Mitsubishi unit, came out and determined the blower motor was bad.
Yesterday, he came with his entire crew with the new motor so they could all learn how to do one together.
You see, in this rural part of Arkansas, there are a lot of small cabins and homes and he's installed a fair number of these heating/air units.
He said he even installed one for his dad, who asked him the other day if a light buzzing sound was what mine was doing. He told his dad that the buzzing his was making was no where near what mine was sounding like. "Not yet," I told him. Mine started out as just a little whir too.
"Yours is the first one we've ever had with a problem like this," he said to me.
Well, of course it is. Just my luck.
After a few calls to the service rep and my downloading a PDF diagram for them, they finally got 'er done.
Another $125 bill ($75 for the service call and $50 for the motor).
I wouldn't recommend this make and model (Fujitsu, Halcyon Inverter) to anyone with a small space to heat/cool. It does make me wish we had gone with the Mitsubishi model that the local weekly newspaper publisher put in his office. They've had it for nearly four years and are completely satisfied.
At least this one is so quiet now that I don't even realize it's on, just in time for a winter storm predicted for this morning.
What do you use to heat/cool your small space?