Small Holiday Decor with a Big Impact
Decorating a little house is a challenge anytime of the year, but the holidays present more challenges.
When we moved from our larger house in the city, I had boxes upon boxes of holiday decorations, including a large and a small tree, kitchen décor, bathroom décor and décor for the porches and exterior doors.
I now have to be very selective, putting out only a few small holiday decorations that can have a big impact to the room.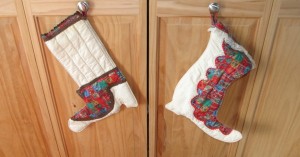 Before we moved to Our Little House full time, I had a tabletop tree as we spent at least a week of our vacation between Christmas and New Year's each year. I do have special bear and woodsy themed ornaments.
That tree worked for a couple of years after our move, but I really wanted a tree that fit more with our cabin in the woods décor. When we were at Log Cabin Furniture, one of our favorite stores in Harrison, Arkansas, a couple of months ago, I saw two pine trees. One was about four foot and the other about six foot tall.
I thought the smaller one would fit perfectly in the corner where I usually put the tabletop tree and I was right. It also has more of a woodsy feel and when I can get to the store that sells the environmentally friendly oil, it will also smell of pine in Our Little House. I also have a set of caroling bears on my small desk in our tiny living room. In the kitchen is a wooden gingerbread house my mother made and a Santa nightlight.
I did need someplace to hang our stockings. Since we have a wood burning stove and no mantel, my initial thought was to hang them on a magnet hook on the steel door. However, Dale couldn't find the hooks in our small town, so for now I have them on the doors to the laundry closet.
I think Santa will still find them there!
If you've downsized, how do you overcome the challenges of decorating for the holidays?