Drilling the Pipe at Our Little House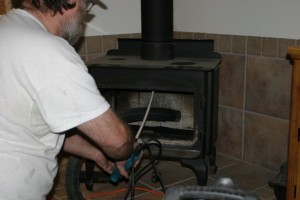 A couple of months ago I wrote that one of our upcoming projects was to clean the pipe for our woodburning stove.
When we sold our house in Kansas City, we found we had a flue fire at some point and didn't even know it. The fire was still costly, as we had to pay the deductible to have our fireplace completely replaced.
The project kept getting put off this year as it really hasn't been that cold and Dale's hours at work have prevented us from doing much around the house.
The arrival of cold weather finally forced to use our new Soot Eater Rotary Chimney Cleaning System last weekend when Dale had some time off.
This is one of those cleaning systems that attaches to a drill, making it easier to clean the stovepipe from the bottom up.
The system has some plastic strings that remind me of a weed eater. They come for a variety of flue sizes, ours being on the smaller end, and Dale didn't want to waste them so he cut them down to fit our pipe.
He had a little problem with getting the strings back into the holder, but after that, it was smooth sailing. Dale really liked this product. The system also came with attachments that allow you to start short and take the cleaning all the way to the top. He used all of them, but they did get him to the top of the stovepipe.
We got a lot of creosote falling down into the stove, but it really wasn't a very messy or dusty job.
Our wood is seasoned properly this year and we will also burn a couple of those cleaning logs throughout the winter.
After having a fire we didn't know about, I want to be as careful as we can with Our Little House.
Do you use a woodburning fireplace or stove and if so, how often and how do you clean it?