We all Need a Pack to Call our Own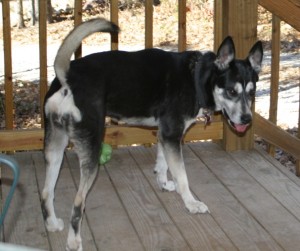 This time, I only intended on sponsoring a dog from the shelter to rescue, but as Living Large readers have quoted John Lennon so many times: "Life is something that happens when you're making other plans."
We have a new member of our family at Our Little House. Right now, she is officially a foster, but well, you know….
The rescue doesn't name their dogs, as they don't want a dog to get familiar with a name and then have it changed, but I can't stand not naming them, so Abbi it is. I wanted to name her Annabel Lee, after my favorite Edgar Allen Poe poem, but Dale thought it too creepy.
Abbi is a fence jumper/digger. She was given up because she wouldn't be contained in a suburban yard and when she got to rescue, they had to build her a special run as she wouldn't be contained there either.
Last week, she got out of her special run and killed the son's duck. In addition to dealing with her son's grief, the owner of the rescue knew now that this poor dog couldn't be in the suburbs or on a farm.
Our Little House, situated near neither, is perfect.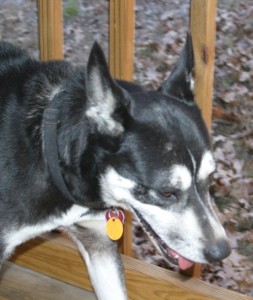 It never ceases to amaze me how these rescue dogs have one thing in common when they get to a new place. They only long to be in a pack, part of a family. When Abbi arrived, she acclimated so very well to everything – her new name, the other dogs, the routines.
I finally turned her lose after her first meal, just hours after we arrived home. She accompanied us on a walk on the road and when I said, "Let's go home," she was the first one back at the driveway.
Given the stories we were told about her not wanting to be caught if she got lose, I was very afraid that she wouldn't come in at dark (none of our dogs remain out after dark since we lost Emma), but once Abbi saw the rest of the family had come in, she followed Dale right into the house. She settled for a spot on the floor to claim as her own and blended in as if she had been here for months.
We've had some scrapes in the pack order issue with Sade and Chloe (Chloe is sporting a pretty good gash on her ear today), but it's gone far better than it did when we introduced Chloe to Emma and Sade just four months ago.
Abbi now has a pack, a family to call her own, something so very basic most living beings need to feel they belong in the world.
"Family" is defined in so many ways. How do you define yours?