To Stop Doing List at Our Little House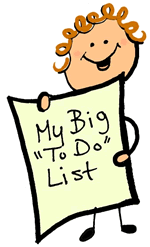 When I read the USA Weekend article about making a "To-Stop-Doing-List," I thought about my post last week and my inability to make traction on my own to-do list.
The article, which quoted Chris Guillebeau, author of The Art of Non-Conformity, suggested that the list would help people eliminate the things in our lives that prevent us from doing what we wanted in our lives.
Our lives thus far haven't been cast in the mold of cookie cutter conventionality. We made the conscious choice not to have biological children, I walked away from corporate America, we never upsized our house, but downsized and Dale took a giant leap leaving a job he held for a quarter of a century to make that move.
So, why am I routinely frustrated that I cannot get to the things that would really make me happy on that to-do list such as going back to yoga, getting farther on my reading list and getting back to daily walks with the dogs?
I came to the realization that it's my own fault, really. It's the things on the to-do list that I "have" to do that I've allowed to get in the way.
This week, I decided to take a new approach. I didn't make a "To-Stop-Doing-List," because I really don't have things on my list that can not be done at some point. I just simply moved a couple of the things I would enjoy doing to the top.
The weather has been beautiful this week and instead of looking out wishing I could be in the sunshine instead of working, I've left my desk more than once to take the little dogs, Molly and Dakota out and enjoy the sun and blowing leaves. In addition, I've made time for those walks with all five of our four-legged family.
I've moved my work schedule around and have still been able to enjoy the things I like to do. The result hasn't been that I didn't get my work done, but quite the opposite. I've been more productive this week, proving that doing things I like to do, makes me more willing to accomplish those tasks that I have to do, such as working.
Yesterday, I found out about a concert at a small local venue featuring an Eagles tribute band. One of my favorite activities back in the day was going to concerts – and we did see the Eagles in 1994 during their reunion tour for something like $90 each –I immediately wanted to go to this one.
This one was substantially more affordable for our new downsized lifestyle. Still, I clicked on the website, started to purchase the tickets, hesitated, logged off.
Should we spend the money? Could Dale leave work early enough?
I thought about my new to-do list.
I went back to the website. I called our neighbors to see if they wanted to go. They do. I bought the tickets and called Dale. He came up with the same objections. "There's more to life than work," I told him.
Saving money is important and so is work, but enjoying life to the fullest is what has motivated our unconventional lives to this point. Why stop now?
What can you move to the top of your to-do list that can be accomplished and would make you really happy?
I would also like to thank all of my readers who are veterans for their service and to the families who supported them during their service, you deserve a big thank you as well. Veteran's Day kat Our Little House has special meaning for me. Go to my post about my brother I wrote last year to learn why.