The Glass is?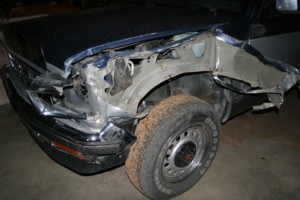 Upon first glance, it may not appear as such in the picture, but this is actually a glass half full story.
Take one wet mountain road, darkness and a slick curve and you have the recipe for potential disaster.
I'm not happy about my 22-year-old Baby Blazer, which was in near mint condition before I left home Tuesday evening.
I'm thankful this is the worst of it. I wasn't going fast when I hit the other truck and he was also not injured. (Our friends tell Dale and I we drive like old people and one friend even refuses to let me drive because I go "too slow").
It wasn't until we got home Tuesday night that Dale said, "Well, it could have been worse. That truck may not have been there at all."
I know I gave him a dirty look because up until that time, I had been wishing the truck I slid into had been 10 seconds earlier or 10 seconds later. Mostly to save the owner of that truck the hassle of being in an accident and to save us both from dealing with insurance companies.
I have only been involved in one other accident in 33 years of driving and the experience with the other guy's insurance was so unpleasant, I still get a bad feeling when hearing that insurance company's advertisements now 20 years later.
"You really haven't stopped to think about what would have happened had you not ran into the truck, have you?"
I really hadn't, but he was right. What was on the other side of that truck was nothing. No guardrails or barriers that would have stopped me from going on over the edge of the mountain.
Of course, Dale snored away all night Tuesday while I laid awake contemplating the "what ifs."
Someone told me I had used up one of my nine lives this week.
Thinking back on the couple of severe storms we've rode out while camping or boating and a couple of other near misses, I'm sure I must be on at least life five or six by now.
When you walk away from one of those near misses, it's always a glass half full kind of day.
What near misses have you had in your life?