Television at Our Little House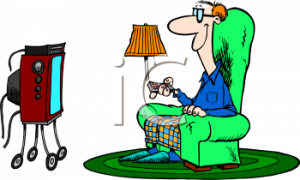 Last year, I wrote about learning to share the remote with my husband in Our Little House.
That hasn't changed; we typically don't have a lot of time during the evenings or even on weekends to watch much.
The problem seems to arise after hours, when I want to go to bed and Dale decides he wants to stay up and watch a movie or finish a show he's already started.
This becomes a problem because I have trouble sleeping through the night; I've become an ultra light sleeper and have had this issue since we moved. It becomes worse when the lights or television are on, even on a low volume.
Close the bedroom door?
We can't due to climate control. In the summer, the air conditioning window unit is in the bedroom, cooling the entire house, including the living room. In colder temperatures, the electric oil space heater or the wood stove is heating the bedroom from the living room.
As well, when Dale is pretending to watch television from his recliner or the futon in the living room (I think he does more sleeping than watching), the dogs don't seem to know where to sleep and are up roaming part of the night, which wakes me.
When he comes to bed, the dogs also settle in too.
This wasn't problem in Kansas City, where he just retreated to the downstairs family room. Even if I could hear the television in the night, I could still shut the bedroom door.
When we were building Our Little House, the builder asked us before putting up the walls if we were sure we wanted to split the living room and sleeping areas.
"Keeping it open will make it look bigger," he said.
I'm still glad we put in the wall and door. Occasionally, we do have people stay with us that would rather stay on the futon in the house than in the Belle Writer's Studio.
Still, I wish we had made different choices about climate control so I could shut the door when I want to sleep and he wants to pretend to watch television.
Just another thing to think about when building a little house.
Do you have a spouse or S.O. that is a night owl or visa versa? Have you given any thought to how you would handle that in a little house?