Would we Move to Our Little House Again part Two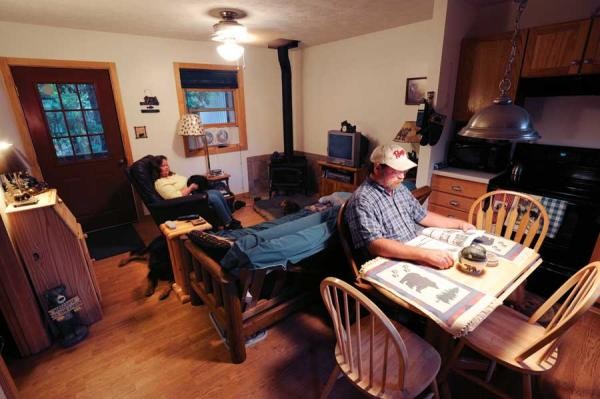 Moving in the country, depending on where you're moving, can be a huge undertaking. It's a different way of life and our Living Large community also brought up some good points to think about such as rural crime (we hear about this happening to weekenders who aren't here mainly during hunting season, although there's plenty of crime to go with the meth trade), needing 4WD vehicles, the high prices and terrible service at rural utility and telephone companies, the availability of jobs, libraries and doctors (they even allow nurse practitioners to run medical clinics here due to the shortage of doctors willing to move to rural communities) and power outages. We also don't have trash pick up and if we don't make it the 6 miles to our volunteer fire department (VFD) on the scheduled pick up night, we hold our trash for another week.
Then there are the many reasons we moved here that has kept us wanting to stay:
Number one for us is the absence of close neighbors. We don't hear fights going on during warm summer nights when everyone has their windows and doors open, we aren't awakened by flashing lights and sirens when there's a loud party or domestic disturbance. We've never had an 18-year-old walking into our home in the middle of the night because he is so bombed out of his mind that he mixed our house up with the cookie cutter house 3 doors down that happened to be the party/drug house.  You get the idea…we like our peace and quiet.
Neighbors aren't close in proximity, but they're close enough to help out. When someone in our community dies, the whole mountain turns out for a potluck at the VFD. During the ice storm, neighbor helped each other making sure everyone had enough food and water and a warm place to sleep. In the suburbs, we knew 4 of our neighbors on our entire block. Here, we know people up to 8-10 miles away. In the city, I can remember just one evening in 17 years that a couple of neighbors got together with me for an impromptu cup of coffee and to chat. Here, it's happened more times than I can count. People we don't even know wave to us on the road. It's a friendly place.
There's the fun festivals and things we sure didn't have in the city, like good old fashioned tea parties (not the political kind!)
Our property taxes, thanks to our homestead tax credit, are negligible, unlike the city, where we were paying $2,000 a year on an 1,100 square foot home.
We can foster as many pets here as we like (although we choose never to have more than a total of 5), as we're in an unincorporated area of the county. Leash laws, pet limits and breed bans (on Sade, our beloved pit bull) don't apply.
We do live so far out I can allow our big dogs to go on our walks with us without leashes. This really has been good for them to get exercise as they can take out on runs and still be within my sight.
While we have to be careful of the wildlife, there's nothing more beautiful than seeing deer or a fox roam through our yard or even to see a tarantula. We love to hear the song of the coyote pack late at night or the hoot of our resident owl as I walk to my studio in the darkness of early morning.
Stars. Most people don't even realize what they no longer can see in the city. From the top of the mountain, we can even see the whitish glow of the Milky Way.
I've learned to cook more in 3 years here than I did in the 22 years of our marriage prior. If we want ethnic food, we've learned how to cook the dish at home. This saves us money on eating out and allows us to better control what we're putting into our system.
It really is fun for me to go to town and patronize the small mom and pop businesses we have. We don't have a Starbucks, but we have Brewed Awakening that makes a killer Razorback! All of the stores and restaurants we frequent, with the exception of Wal-Mart, are locally owned and not the corporate Big Box chains.
Space. Our house is little, but my husband, the mechanic, finally has the garage space he's always dreamed of! And he has 7 more acres to build more if he chooses!
So, yes, we would do it again!
It really all comes down to the point Vicki made last week on the other post. It's about planning, knowing what you are getting in to and making the best of the negatives while enjoying every positive that prompted your move in the first place.
It's what Living Large is all about!
What have I left out in the way of the positives of country life?