Preparing Our Little House for the Cold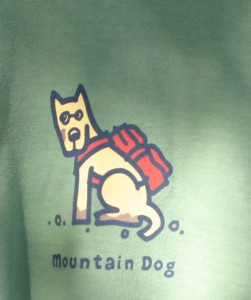 Brrrrr. That's the word for the first of this week, as it turned cold with a cold front that came in over the weekend. It will warm up a bit this week, but I'm confident that our 100+ degree heat indexes are now but a memory until next summer.
My "Me" day was fantastic, with the exception of getting that massage which I hope to get this week, I got to do everything I wanted to do.
As you can see in the photo, I also made an unplanned stop at the "Life is Good" store in town and couldn't resist this new long sleeved tee.
Dale also bought some new t-shirts for work this weekend and I got a couple of pairs of sweats, as I live in these during the cold months.
That means it is getting time to put up my cool summery cotton pedal pushers and t-shirts and rotate to my sweats and Dale's flannels.
First, though, I must do away with some things I didn't wear last season. I practice the "one in, one out" policy, so I will have a bag of things to take to the Salvation Army at the end of the week.
In addition to rotating the clothes, here's some other projects we will be working on in the coming week:
Dale saw a nifty stovepipe cleaner on the show, "Cool Tools" on the DIY channel. I ordered it yesterday and hopefully, it will be here by the weekend. The cleaner hooks up to your drill and you clean the pipe from the bottom. This is something we need to do, as it hasn't been cleaned in two years. When we sold our house in the city, the inspection told us we had a flue fire at some point and the whole chimney had to be rebuilt. This is what happens when you're careless about the cleaning. If you're lucky, as we were, your roof doesn't catch on fire.
Clean out my cabinets. Like many people, I do a lot more cooking in the cold winter months than in the summer. It's time to dig out the crockpot recipe books, the crockpot and also see what is languishing in my cabinets that needs to be used first – or thrown away.
The wood all needs to be moved from the upper driveway near the storage building closer to the house. Dale cut and split the wood last winter and stacked it so it would dry. We keep it away from the house to keep snakes and bugs from getting close, but it needs to be moved closer to keep the home fires burning this winter.
What are you doing around your house to prepare for the upcoming cold weather?