Our Dear Deer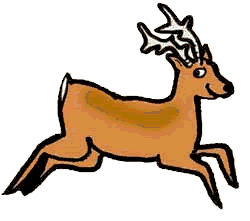 It really is starting to feel a lot like fall, not just here in the Ozarks, but my friends across the country have been commenting on the cool mornings and warm afternoons that signal a change in seasons.
It seems that it is during the change of the seasons that I stop and do a little self-reflection, as well as take time to notice the changes around Our Little House.
There are the more noticeable changes. Since spring turned to summer, we lost Emma, a beloved family member, but also gained Chloe at Campbell Town.
The days are also growing shorter, we have to take our walks now by 7 p.m. rather than 8. The county fairs are over and the weekends in the Ozarks are busy with fall festivals.
Other changes are less noticeable. Our large Oak right off of our party deck, which I fought the construction crew to work around while they were building, hasn't produced many acorns in the past two years. Unfortunately, the majority of the trees in our woods die a slow death when carpenter ants eat them from the inside out. As well, that tree sustained considerable damage during the horrible ice storm in 2008.
We've saved it so far, but I'm afraid its days are numbered. I sat on the deck on a cool morning yesterday remembering how Emma, Molly and Dakota used to love eating those acorns on the deck. It made me a little sad that even things at Our Little House cannot always remain the same.
That sadness, though, is tempered with some excitement over our new neighbors, a pair of bucks that we've seen wandering the property in the past two weeks. We rarely saw deer when Emma was here, her nickname was "The Woodland Creature," just because she loved wandering the woods around the house so much. Of course, Sade and Chloe normally joined her, scaring off any deer with sense.
It's fun for us to watch the two wander through the property now, especially bucks, which seem to be seen less frequently than the does. The larger of the two has a respectable rack that shows his maturity over the one with the smaller antlers.
Soon, the leaves will completely change and fall and the days will become even shorter. We'll make it through another dreaded hunting season. It will be time to fire up the wood stove and dust off the comfort food recipes.
Now I know really what the saying, "The more things change, the more they stay the same," means.
What changes are you noticing now in your own family or around your own home?