Where to Build a Little House
Today, we end our summer of Monday guest posts with one from Mary Brown. Mary has a decision to make about where they should settle and build their little house.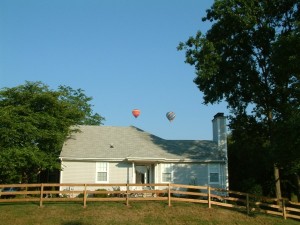 Here's the post from Mary:
The kids have all moved out and started families. Luckily for us, my husband is able to take early retirement from his job in two years. We will be able to move anywhere but now we need to figure out where?
The problem is there are so many beautiful places. I think we could live just about anywhere and be happy. We would love to have a place with space between us and the neighbors and the space for gardening.
We did have a place on the beach in North Carolina but the bugs and alligators just aren't for us so, we sold it. It was nice walking on the beach but we also love hiking in the mountains.
We currently live in New Jersey, but to it's very expensive to stay here. The current NJ community we live in prohibits fruit or vegetable gardening. Our house is on the market in an effort to start the process of moving forward.
How did you choose where you live and what would you change if you had it to do over?
The decision for us had already been made. My mother, sister and my aunt and uncle chose this land back in 1984. A long story, but my mother ended up with my sister's share and sold 20 acres back to my aunt. My aunt deeded our first 2.5 acres to us. When my family initially bought this land on Bull Shoals Lake in the 1980s, it was very affordable. When we received our plot, not so much.
We did buy seven more acres on the other side of us when the opportunity presented itself and my aunt picked up nearly 10 more acres across the road at a tax auction. That gives us a 50 acre barrier surrounding our house that is owned by us or family.
We wouldn't change where we're living. Last winter, when Dale didn't have a stable job holding us here, we thought about different places to go. It seemed the jobs were in North Dakota, but that is definitely too cold for me, as are Montana, Wyoming and Colorado. We thought about New Mexico or Arizona, but would miss the change of seasons. Nope. Right here in the Ozark Mountains is the perfect spot for us.   -Kerri