The Microbes are After us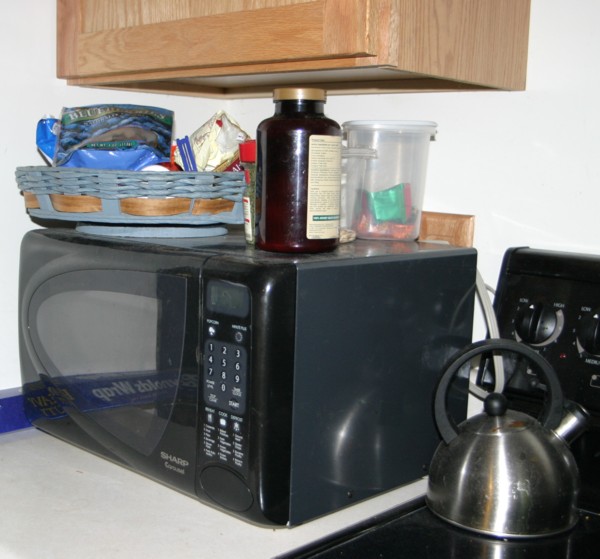 When we moved to Our Little House 3 years ago, I almost tossed the microwave. While I didn't know of any specific dangers from cooking with radiation, I've somehow always inherently known that it must not be good for us.
Maybe it was one of the first experiences I had with a microwave. I was about 12, getting ready to head with a friend to the pool for a day of sunbathing (I know now, of course, that isn't good for us either) and boy chasing (whether that is good for us depends on the boy).
As I recall, my friend had one of the first microwaves in our neighborhood and we proceeded to blow up our hot dogs all over the new oven. I remember we were a bit delayed after cleaning it up, but I also remember thinking that anything that could make a hot dog explode in under 2 minutes couldn't be good.
And then there was the woman who continuously called the appliance service center at the department store where I worked as a teenager. The poor lady kept telling us she could see the "microbes" escaping her oven and she needed a service man out right away. We thought at the time she was just lonely – as she always had a fresh batch of cookies for him – and insisted he sit and visit with her while there.
But, maybe the little old lady wasn't crazy or lonely as we thought…
When my aunt moved to the woods, she chucked her microwave immediately. I think there's something about living in a natural environment that just doesn't mesh with the thought of radiation. I didn't go that far, mostly because on the rare occasion I don't cook, Dale thinks he has to have it.
For my part, though, I've quit using it, opting instead to cook all of our food on the stove and heat my lunches in the toaster oven. Our microwave sits mostly unused and unplugged, taking up space on my limited counters and collecting dust.
My friend, Alicia, who owns the land where we gardened this year and is also my natural food hero, has never owned a microwave and does all of her cooking in cast iron cookware (also a goal of mine).
I was thoroughly disappointed last year when a certain food company quit making those boil in the bag frozen veggies, they now have to be steamed in the microwave. I resolved instead, to grow my own veggies or buy fresh organic veggies in season and freeze them myself.
No one puts Kerri in a corner and tells her the way she must cook her food!
While this article on the FDA website insists microwave cooking is safe, there's studies that also indicate cooking with the microwave makes food lose most of its nutritional value. There's also some indication that food cooked with radiation may harm the cells in our body and compromised cells are the cause of diseases such as cancer. Besides, the experts who claim microwaves are safe still advise against standing in front of one while it is cooking, something that's hard to escape in a house as small as ours.
Even if I believed cooking with a microwave is good for us, cooking a container of Jiffy Pop on the stove or popping corn in the pot is much more fun than cooking it in those bags!
Have you thrown out your microwave oven? Why or why not?