Summer's Bounty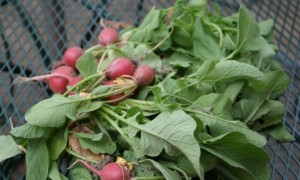 As summer winds down, some of our Living Large in Our Little House community might find themselves with more summer harvest bounty than good recipes.
Unfortunately, that is not the case here this year. A wet, cool spring followed immediately by too hot of temperatures made for a short growing season. As you can see in my post from a few days ago, my grape and volunteer tomato plants have about had it and the ones in the garden didn't fare much better.
Still, I know some of you are still picking and growing. Here's a couple of recipes from my mother's recipe box that have long been staples for summer in our family:
Sour Cream and Cucumbers
2-3 large fresh cucumbers
1 sweet or mild fresh onion
2-4 Tblsp. Sour cream
Salt and pepper to taste
Grate the cucumbers into strips with a hand grater. Do the same with the onion. Mix the sour cream with onion and cucumbers. Salt and pepper to taste. Makes a great summer side dish or pre-dinner salad.
Tomato, Onion and Cucumber Salad
2-3 fresh tomatoes
1-2 fresh cucumbers
½ fresh sweet or mild onion
Italian salad dressing to taste
Cube tomatoes and cucumber. Dice onion. Mix in a bowl together with Italian salad dressing to taste. Makes an excellent summer salad or with a piece of garlic bread, is a meal!
Freezing Blueberries
For dry pack berries, wash berries, drain and remove the stems and bad berries. Pack into plastic freezer bags or vacuum package. Seal, label and freeze. For blueberry pie filling, wash and drain 12 cups of blueberries, Combine with 3 c. of sugar and ¾ c. of cornstarch. Let stand until juice begins to flow, about 30 minutes. Add 1 tblsp. Grated lemon peel and ¼ c. lemon juice. Cook over medium heat until mixture begins to thicken. Ladle into ca-or-freeze jars or plastic freezer boxes, leaving ½ inch headspace. Cool at room temperature, not to exceed 2 hours. Seal, label and freeze.
Freezing Green Beans
Wash beans in cold water, trim ends and cut into 2-4 inches to fit freezer container. (The longer cuts, the better quality). Blanch 3 minutes. Cool. Dran. Pack beans into can-or-freeze jars, plastic freezer bags, plastic freezer boxes or vacuum package. Seal. Label. Freeze.
Do you have any favorite fresh summer salad recipe or freezing method?