The End of Summer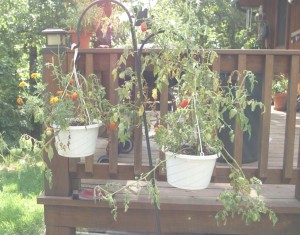 The end of July, I cannot believe the summer is almost past here at Our Little House.  Sure, the long term weather forecast says we still have at least a month left of these oppressively hot and humid temperatures, but once July is gone, I feel the summer slipping.
This too, is ingrained in my DNA from childhood. July 31 marked the end of my Dad's month long vacation from his long-time railroad job and August 1 marked the beginning of school clothes and supply shopping (the railroad paid once a month on the 1st) and the dentist and doctor check ups.
While there were still plenty of days to run, bike and play and evenings to catch fireflies the end of summer was just around the corner, as school usually started by the 3rd week in August (as it does here now). My staying up late with my mother also came to and end as she tried to get me back into a routine.
It was a time to begin to hunker down, spend more time indoors and get serious about life again.
Here at Our Little House, that same feeling envelopes me – not that summer has meant those carefree days we had in childhood – but the beginnings of change is around us in nature and in our plans.
The tomato and cucumber plants are starting to wilt and produce less. Things are drying up and taking on that "August" hue of brown.
At Our Little House, it's time to call out the chimney sweep before we need to light the warm fires of fall and winter and to plan a final weekend visit "home" to Kansas City for the year.
Since Dale returned to work in the spring and has been working many hours this summer, it's also a time to finally prep our boat for some crisp fall fishing outings and of course, to plan our now annual reunion with my friends from high school.
I know the end of summer is marked differently by people, one friend even told me she overheard someone say "Summer is almost over!" during the July 4 holiday.
For me, Memorial Day marks the beginning, Independence Day the middle and August 1 is the beginning of the end of the season.
What marks the end of summer for you?
I will be posting some fresh and freezing recipes on Monday. If you would like me to include yours, please send it to me by tomorrow, 7/31. fivecoat@ozarkmountains.com