I Can Can!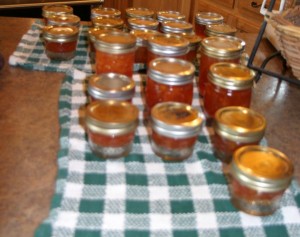 The mysteries of canning have finally been revealed to me.
As I've written before, I've wanted to learn to can since even before we moved to Our Little House. I had written a story several years ago on an older woman, her garden and her canning and although she invited me back for lessons, I never took the time.
When we moved here, I knew I wanted to learn and this year, I even included a bunch of canned jars of fruit on my vision board.
I asked our friends who are sharing their garden space with us if they can. "Oh, no," Alicia told me. "I freeze everything, canning is just so much work."
Rae, our end of the point neighbor, told me she would teach me if I supplied tomatoes from our garden.
This week, however, she supplied a bushel of peaches of which we made peach jam. On the first day, we made sugar laced jam, on the second day it was sugar free.
Here are some things I learned about canning this week:
It is hot and hard work. Boiling and sanitizing all of the instruments and jars. Blanching fruit and "bathing" the finished jars.
My hands literally got waterlogged from peeling and cutting up the juicy fruit. By the time I was finished, my elbows were sticking to the counter.
I can see why my friend was so eager to teach me the art of canning. Doing it by yourself wouldn't be half as much fun and really, nearly impossible to keep up with all the steps.
Comparing canning books from 1948-present was really fun. We learned the earlier books were less technical (afterall, we think the books assumed people knew this stuff) and contained a lot less sugar than today's recipes.
We had a good time and we do plan to can some tomatoes, sauce and salsa if we get enough bounty from the garden. However, I am going to also look into freezing. Some of those books have freezing methods as well.
How about you – freezing or canning fresh fruits and veggies from the garden?