All it Takes for Some Rain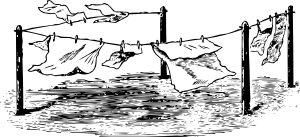 You know the old adage that all it takes to get some rain is to wash your car? Well, here at Our Little House, it seems all we need to do to get some rain is to do laundry.
I had been putting off the chore each day this past week, as it would cloud up every time I began to throw the first load in. I hang most of our clothes out for several reasons:
I don't like shrinking, tight fitting clothes
Not running the dryer saves the environment
It also saves money on electricity
We had a very dry June and certainly need some rain. Our garden at our neighbor's house is very dry. They waited too long to string hoses to bring some moisture to the plants and most of them dried up. Our cucumbers quit flowering and our tomatoes will have less than a stellar harvest. I'm hoping we have even enough to can.
Once again, there was a chance of rain yesterday, but I had put off the laundry as long as possible. Not only were we running out of clothes, but I was several days late in putting the RidX down the septic system (putting it down the septic and then running a large amount of water through the next day is counter productive).
The day began sunny, so I started the laundry as soon as the dogs ate breakfast. I have to wait until Emma is out of the house for the day as the washer and dryer scare her!
As soon as the dogs and I came back to work from lunch I began to hear what I thought was heat thunder again.
About an hour later, I was running from the Belle Writer's Studio to the little house scooping up the clothes that were hanging to dry before they got pelted with rain.
Luckily, the laundry was dry, except for the bathroom throw rug, which I hung to complete the process from the towel rack.
I'm not complaining, I wish we would have gotten more rain here at the little house, but I'm grateful for what we received.
It's just Murphy's Law that the one day in 10 that I pick to do laundry, the weatherman is right.
Too bad Murphy's Law doesn't work every time for everyone. We would certainly see less drought.
Do you have examples of Murphy's Law at work?