You can go Home Again
Wow! Thank you to everyone who participated in the comments on raising your own chickens. Marty is the winner of the book, "The Complete Idiot's Guide to Raising Chickens," but even if you didn't win, you can still get the book here. Marty, you need to email me at fivecoat@ozarkmountains.com by tomorrow (Thursday, June 3) at 2 p.m. CST with your contact info, including snail mail address and phone #, or I will have to draw another winner.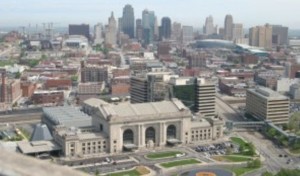 We were able to leave Our Little House and make a visit home this weekend, to our native Kansas City.
Dale hadn't been back to the city since November 2008 and I hadn't been there in a little over a year. What we learned is that you can go home again, you just have to be prepared for it to be different.
I had some research to work on for a couple of assignments. We also had lots of plans for this weekend that included seeing a few friends, taking walks from our hotel, The Raphael, to the Country Club Plaza, and of course, eating at some of our old favorite haunts.
Going home after being away for a while is a lot like seeing an old friend and their children after a long time apart. You remember them  – and they remember you – as you all were before. You don't remember those gray hairs, those extra few pounds and you remember their kid having poopy diapers and riding in a baby carrier instead of having acne and driving a car.
You forget that things change in your absence and while you might still get along well, things aren't the same.
It's amazing how many things can change in three years in a city the size of KC. The recession has evidently taken its toll on some of the businesses we used to frequent, including one favorite Mexican restaurant.
We drove through the neighborhood in which we grew up and we found that most of the homes were not as we remembered, including the ones our parents owned. The brick Tudor my parents purchased when I was a teen had an extra double bay garage that had recently been added. The large Victorian is even larger now, but the new owners did a fine job of matching the almost 100-year-old brick on the house and ceramic tile roof.
Most of the touches my mom added were gone and maybe for the first time I looked at the old home and didn't feel as if it were hers.
We vowed to see most of the city through new eyes, as tourists who had never been there before. Since Dale and I grew up on the Kansas side of the line and spent most of our time there, it was fun walking from our hotel over to the Plaza one evening to sit at an outdoor café and people watch. On Sunday morning, we drove through some of the neighborhoods in Missouri and saw things I'm sure had always been there, but we never noticed.
It was surreal, as it did feel like we were in a different place, certainly not home.
Our friends remained mostly the same, if only a little older (aren't we all?) The more things change, the more the important things remain the same.
The biggest difference, though, were our attitudes when it was time to leave. I can remember the last trip we made to KC. We had stopped at a fast food place on the way out of town, more to delay our trip back to Our Little House than to eat. It wasn't that we didn't like being in our new home, but we were still feeling as if we were leaving "home," when we left KC.
This time, we felt we had a vacation, not that we returned someplace we had lived for most of our lives. Maybe it was the distance of time, but we were glad to get back on the road to our current home, Our Little House and our Fearsome Four.
There's no place better on earth.
Have you ever tried to go "home again?" What did you find, or hoped to find that you didn't?