The Cookie Sheet Cabinet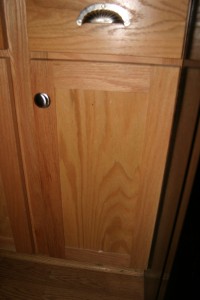 When we recently visited some of our friends in Kansas City, they proudly showed off their newly remodeled kitchen. One of the first things she pointed out was her cookie sheet cabinet.
I took a new appreciation for the fact that I was at least smart enough to install one of these in Our Little House.
I don't care how you plan, there's always something you forget in a construction project. Our friends down the road even forgot to design a linen closet into their home although he is a builder and they've flipped several houses in their lives.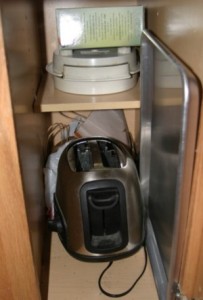 Our cookie sheet cabinet is tall enough for big cookie sheets and a large pizza pan and deep enough to accommodate the width of the largest sheets, allowing the space at the back of the cabinet for a small shelf to store other things.
As you can see, we not only keep our cookie sheet (and pizza pan when it isn't in the drainer), but I also keep some of my small appliances in this cabinet, including the toaster, waffle iron and mixer.
Our excellent cabinetmaker was able to customize the cabinets for the tight fit in the house. If you're redesigning your cabinets or building a new home – even if it isn't a little house – this cabinet is a must.
There is a lazy Susan in the corner of the lower cabinet, which I always wanted and thought would be my favorite cabinet space. However, just a few times of accidentally getting my fingers caught in the door while closing the lazy Susan has cured me of that.
My cookie sheet cabinet could very well be my second favorite part of my kitchen, right under the light fixtures (pun intended, of course!)
What's yours?